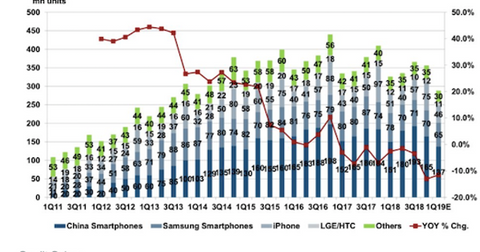 More Bad News for Apple as Credit Suisse Cuts Production Estimates
By Sanmit Amin

Updated
Apple is no longer a market darling
Market sentiment on Apple (AAPL) has soured considerably over the last three months, shaving off a whopping $400 billion off the iPhone marker's valuation. Apple is now behind Amazon, Microsoft, and Alphabet in terms of being the world's most valuable public company.
Apple stock in particular declined after the company for the first time ever slashed its quarterly forecast after several reports had already suggested that the company's latest iPhone models are seeing meek demand. The evident saturation in the global smartphone market has been a major factor in Apple's increasing woes. That effect has been accentuated in Apple's scenario given the ever-increasing price of the iPhone, which has partly caused consumers to hang on to their older iPhones.
Article continues below advertisement
Credit Suisse production forecasts are scary
Now, according to the latest note to investors by Credit Suisse (via Business insider), the investment bank forecasts that the global smartphone production is likely to decline by as much as 19% in the first quarter of 2019. The bank warned investors that "the bottom is not in sight."
The market sentiment on Apple's stock may have dimmed a lot, and the stock may not be bottoming out quite yet, but the stock is now trading at relatively attractive valuations. Apple's services segment may be growing swiftly but it's far from being big enough to be the key growth driver right away.
However, buying the stock on dips this year could prove to be a good strategy in the long run given the kind of sheer financial muscle, robust ecosystem, and brand value the company possesses.