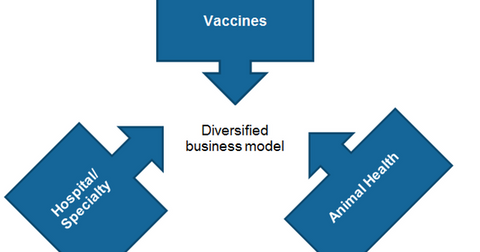 Merck Pursued Diversified Business Model in Fiscal 2018
By Margaret Patrick

Updated
Diversified business model
In fiscal 2018, Merck (MRK) managed to significantly strengthen its oncology and vaccine franchises while maintaining the industry-leading position of its animal health business. According to Merck's 37th Annual J.P. Morgan Healthcare Conference transcript, the company's leading oncology asset, Keytruda, is already approved in ten tumor types and has managed to demonstrate activity in an additional 25 tumor types. Merck is thus focused on investing resources to advance research programs evaluating Keytruda monotherapy as well as Keytruda-based combination regimens across multiple indications.
Article continues below advertisement
Vaccines business
In the third quarter, Merck's vaccines business reported revenues of $2.2 billion, a YoY rise of 13%. According to the company's third-quarter earnings conference call, this was mainly attributable to Gardasil reporting $1.0 billion in worldwide sales driven by robust demand trends. The launch of Gardasil in the Chinese market is also expected to emerge as a major growth driver for Merck in future years.
Merck is currently focused on advancing the research program of its investigational 15-valent pneumococcal conjugate vaccine, V114, and its vaccine for primary Cytomegalovirus infection in healthy seronegative women, V160.
Hospital/Specialty business
In the third quarter, the leading asset in Merck's Hospital/Specialty portfolio, Bridion reported sales of $217 million, a YoY rise of 20%, which was driven by robust demand trends in the US market. Additionally, Bridion is also expected to witness solid demand in China in the coming quarters.
On September 11, 2018, Merck issued a press release announcing positive results from the Phase 3 trial evaluating investigational therapy, Zerbaxa, in the hospital-acquired or ventilator-associated bacterial pneumonia indication.
Animal health business
In the third quarter, Merck's animal health business had reported revenues of $1.02 billion, a YoY rise of 2% on a reported basis and 6% on a constant currency (or CC) basis. Merck expects to benefit from various R&D synergies between its human health and animal health businesses in future years.