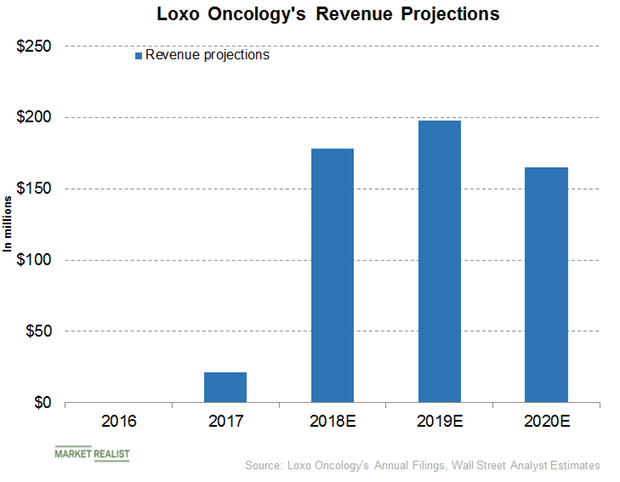 Loxo Oncology Is Expected to Boost Eli Lilly's Revenue in 2019
By Margaret Patrick

Jan. 8 2019, Updated 11:30 a.m. ET
Revenue expectations
Eli Lilly and Company (LLY) expects its Loxo Oncology (LOXO) acquisition to become revenue accretive starting in 2019.
Analysts expect Loxo to report revenue of $178.30 million in 2018, a YoY (year-over-year) rise of 737.08%. The company is also expected to report revenue of $197.96 million in 2019, a YoY rise of 11.03%. Analysts expect Loxo Oncology's 2020 revenue to be $164.91 million, a YoY fall of 16.70%.
Analysts expect Loxo Oncology's revenue to be close to $57.78 million in the fourth quarter of 2018, a YoY rise of 171.26%.
Article continues below advertisement
Loxo Oncology's revenue contribution to Eli Lilly may vary from these estimates following the completion of the acquisition. This variation could be owing to changes in several factors, such as commercial infrastructure, distributor relationships, and overall strategy. However, these estimates provide a fair indication of Wall Street's expectations of the future commercial potential of Loxo Oncology's portfolio on a stand-alone basis.
Loxo Oncology's approved oncology asset
According to Eli Lilly's investor presentation, the acquisition will add VITRAKVI (larotrectinib), which was approved via an accelerated approval pathway by the FDA on November 26, 2018, to Eli Lilly's portfolio. According to the FDA's press release, VITRAKVI, an oral tyrosine kinase inhibitor, is indicated for the treatment of certain solid tumors with specific genetic features irrespective of the location of the tumor in the patient's body.
On November 14, 2017, Loxo Oncology issued a press release announcing a global collaboration with Bayer for the development and commercialization of VITRAKVI and LOXO-195. According to this release, Loxo Oncology received a $400 million up-front payment from Bayer.
According to the agreement terms, Loxo Oncology and Bayer will together commercialize VITRAKVI and LOXO-195 in the US market and share costs and profits equally. According to this press release, Loxo Oncology is also entitled to receive $25 million worth of milestone payments following its achievement of certain sales targets in the US market.
According to this press release, Bayer, however, will be solely commercializing VITRAKVI and LOXO-195 in ex-US markets and will pay Loxo Oncology royalties and milestone payments of ~$475 million in return. In August 2018, Bayer submitted an application seeking regulatory approval for VITRAKVI in the European Union.
In the next article, we'll discuss changes in Eli Lilly's oncology pipeline following the completion of Loxo Oncology's acquisition in greater detail.