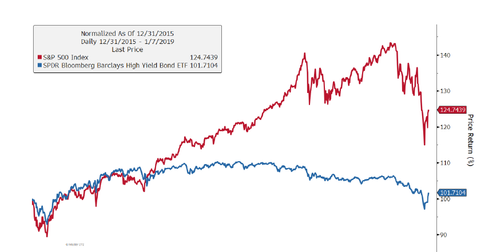 Jeffrey Gundlach: How to Survive the Market Zigzags in 2019
By Anuradha Garg

Updated
Gundlach: 2019 should be a volatile year
Jeffrey Gundlach expects 2019 to continue to be a volatile year. The last quarter of 2018 was quite volatile after a prolonged calm in the markets (DIA) (SPY). Gundlach believes that higher yields on bonds (HYG) (BND) will hurt stocks in what he's called a "tug of war," as reported by CNBC.
He's also stated that due to rate hike expectations going forward, the stock market will be seeing a push-pull dynamic.
Article continues below advertisement
Surviving the zigzag of 2019
Many factors are affecting investor sentiment. These factors include the US-China (FXI) trade dispute, rate hike expectations, China's slowdown, and earnings and margin deceleration.
Gundlach believes that due to buybacks, the equity markets have turned into a collateralized debt obligation residual, which he believes is "getting thinner and thinner, riskier and riskier." He added, "So, the balance sheets of corporations are balanced on ever-dwindling equities as they buy back shares and increase their leverage ratios. And that's not good."
His advice is for investors to look for companies with strong balance sheets. He said, "Strong balance sheets are going to be the way to survive during the zigzag of 2019."
Asset allocation
Investors should modify their asset allocation depending on the current market cycle phase. In later stages of the business cycle, investors need to protect their wealth while positioning for a potential downturn. In such scenarios, focusing on quality is the best bet. Among equities (SPY) (VTI), focusing on companies that have grown their earnings consistently and that have solid balance sheets is usually a good strategy, as is increasing allocations to cash, fixed income (TLT), and precious metals (GLD) (SLV). Gold acts as a strong hedge against inflation and stock market decline.