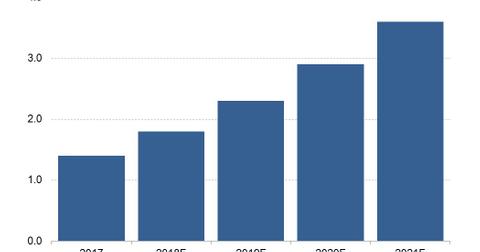 Is There a Secret behind PayPal's Mobile Push?
By Neha Gupta

Updated
Mobile-only strategy
In the third quarter, mobile-based transactions accounted for 40% of PayPal's (PYPL) total payment volumes compared to 35% a year earlier. PayPal is so focused on mobile that its CEO, Dan Schulman, said at a recent investor conference that the company had adopted a mobile-only strategy—and there's a good reason for this aggressive mobile push.
According to eMarketer, consumer purchases made on mobile devices accounted for 58.9% of all online retail sales globally in 2017 compared to 40.2% in 2015. Globally, the mobile e-commerce market is expected to grow to $3.6 trillion by 2021 from $1.4 billion in 2017. By 2021, mobile is expected to account for nearly 73% of all online retail sales across the world.
Article continues below advertisement
Mobile payment race
In addition to PayPal, Google (GOOGL) and Facebook (FB) are two other big tech companies pursuing the attractive commercial opportunity in the mobile commerce market. Google has built a mobile payment service called Google Pay, which it continues to roll out globally. On its part, Facebook has been building payment features into its Messenger and WhatsApp platforms. Snap (SNAP) also tried running a mobile payment business but eventually killed off its Snapcash service in August 2018.
Square's (SQ) horse in the mobile commerce race is a product called Cash App, which lets people transfer funds to one another or use their funds to pay for purchases using a linked debit card.
Product security and financial losses
There may be another reason PayPal is making an aggressive mobile push. According to a report by the Wall Street Journal, the company's mobile push could also be aimed at helping it cut its losses and make its products more secure. 
Citing internal communications, the report stated that the Web accounts for just 2.0% of PayPal's Venmo payment volumes but is responsible for ~15% of the business's losses. Venmo is a mobile payment and money transfer app.