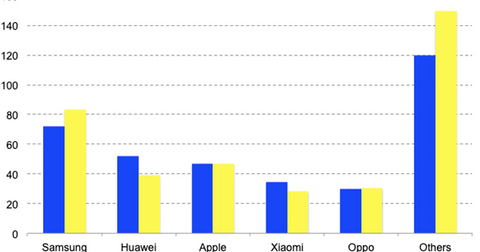 Is the Smartphone Industry Doomed?
By Sanmit Amin

Updated
The global smartphone market has matured
The slowdown—and eventual decline—in the global smartphone market has been a long time coming. Customers are more than happy to hold onto their older smartphones for longer, as today's smartphones are already quite good.
In the past, we've mentioned that the next big leap in smartphone innovation will boost smartphone sales. This innovation could come in the form of foldable smartphones, 5G technology, or something we don't know about yet. 5G technology is expected to go mainstream in smartphones next year.
However, we're seeing small signs that the big leap in technology we're looking for could be here sooner rather than later.
Article continues below advertisement
Some smartphone vendors have started working on foldable technology
Motorola's Razr, which was extremely popular around 2006, could be coming back with a smarter avatar. Google (GOOGL), Samsung (SSNLF), Xiaomi, and Huawei are all working on foldable smartphones, with Samsung being one of the first vendors to throw its hat in the ring.
However, there has always been skepticism about the feasibility of folding today's smartphones given how delicate pieces such as chips and batteries would have to be folded along with them.
Even if foldable smartphones do come to fruition, they might not be cheap, which could put consumers off.
However, we're headed into an exciting phase in the smartphone industry. Innovators such as Apple could throw some new technology at us out of the blue, which could change the game. Such new tech is always a possibility given the kind of financial muscle the iPhone maker has.