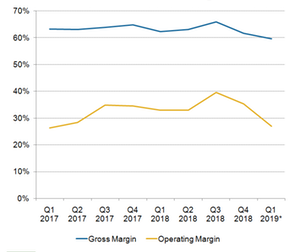 Intel's Profitability Was Hit by This Transition amid Slow Demand
By Puja Tayal

Feb. 1 2019, Updated 9:00 a.m. ET
Intel's profitability
Intel (INTC) has been reporting YoY (year-over-year) revenue growth in every quarter for the last three years, which has helped it improve its profitability. It's been reporting a non-GAAP (generally accepted accounting principle) gross margin of over 60% for the last ten quarters and an operating margin of over 30% for the last six quarters. The company's profit margins have improved significantly as it's continued to leverage its 14 nm (nanometer) node, which has been generating a mature yield.
Intel's high-margin trend is expected to end in the first quarter of 2019 as its revenue growth slows and its costs rise due to its aim of transitioning to the 10 nm node by the end of the year.
Article continues below advertisement
Gross margin
A company's gross margin is the profit that remains after it deducts its production costs from its revenue. It's a product of a company's ASP (average selling price), production cost, and product mix. Intel's non-GAAP gross margin peaked in the third quarter due to one-off instances and normalized to 63.3% in the fourth quarter.
Intel expects its gross margin to fall to 59.6% in the first quarter of 2019 as its ASP growth slows, its mix of lower-margin adjacencies (such as memory and modem) increases, and its costs rise with the ramp-up of 10 nm production. Its ASP growth could slow further as it loses its process node lead to Advanced Micro Devices (AMD), which is set to launch its 7 nm products in February, whereas Intel is still stuck with 14 nm products. Intel's technology lead previously gave it pricing power over AMD.
Operating margin
Intel's one-off instances in the third quarter of 2018 also sent its operating margin to 39.6%, its highest level since 2011. The margin normalized to 35% in the fourth quarter as increasing operating leverage was offset by its 10 nm transition costs and its increasing mix of adjacencies. This trend is likely to continue through 2019. In the first quarter of 2019, Intel expects to report a non-GAAP operating margin of 27%.
Intel expects to mitigate the impact of its 10 nm transition costs and its growing adjacencies by increasing its spending leverage. We'll look into this strategy next.