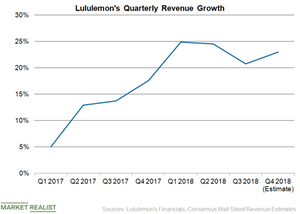 Insights into Lululemon's Revenue Growth Strategies
By Sirisha Bhogaraju

Jan. 18 2019, Published 12:40 p.m. ET
Upbeat guidance
In December, Lululemon (LULU) reported better-than-expected revenue growth of 20.8% in the third quarter of fiscal 2018. However, investors were disappointed with the company's fourth-quarter guidance at the time.
Given the update it provided on January 14, Lululemon impressed investors by raising its fiscal 2018 fourth-quarter guidance after a strong holiday season. The company now expects its fiscal 2018 fourth-quarter revenue to be in the range of $1.14 billion–$1.15 billion compared to its previous guidance range of $1.115 billion–$1.125 billion. Lululemon's revenue rose 23.3% to $2.1 billion in the first nine months of fiscal 2018.
Article continues below advertisement
Strategic initiatives
Lululemon is expanding its presence in growth categories such as outerwear. In the third quarter of fiscal 2018, the company's men's outerwear category experienced comparable sales growth of over 150%, and its women's outwear category surged 40%. Lululemon is focused on capturing the growth potential in this space, and it's attracting customers with tough and water-resistant offerings, such as the Cloudscape jacket for women and the Outpour parka for men. Another rapidly growing company in the outwear market is Canada Goose (GOOS), which reported a revenue rise of 37.2% to 275 million Canadian dollars in the first six months of fiscal 2018, which ended on September 30, 2018.
Lululemon's men's business is currently a key area of focus for the company, and it's ahead of schedule in terms of its goal of delivering $1 billion in sales in this category by 2020.
Robust digital sales in the third quarter accounted for 25.3% of the company's overall revenue. With this performance, Lululemon has reached its goal of 25% penetration for digital sales by 2020 far ahead of schedule. The traffic to the company's site surged by more than 35% in the third quarter. Its investments in strengthening its digital capabilities and marketing have been boosting its online sales.
Lululemon is enthusiastic about its international expansion plans, especially in Asia and Europe. In the third quarter, the company's revenue outside the United States and Canada rose 37.4% to $82.3 million. Lululemon is on track to open ~36 company-operated stores in fiscal 2018, including 20–25 stores in international markets.
We'll discuss Lululemon's profitability in the next article.