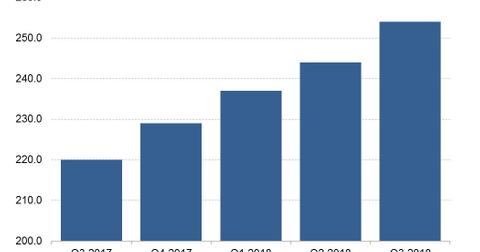 How Will PayPal Counter Amazon Threat?
By Neha Gupta

Jan. 3 2019, Updated 7:31 a.m. ET
PayPal is battling strong headwinds
PayPal (PYPL) is preparing to report its fourth-quarter earnings at a time when it has emerged that Amazon (AMZN) wants to challenge its base. Amazon is exploring taking its Amazon Pay service beyond its own marketplace, as it seeks a larger piece of the digital payments market, according to the Wall Street Journal. A broader roll-out of Amazon Pay would add to the strong headwinds the company is already battling. Recently, Square (SQ) escalated its competition with PayPal by launching a consumer lending service. In India, Google (GOOGL) has created more headwinds for PayPal by adding consumer lending to its Tez payment service in the country.
Article continues below advertisement
Amazon business has been elusive for PayPal
For a long time, PayPal has pursued business from Amazon. When PayPal separated from eBay (EBAY) in 2015, there were hopes that the separation might help it win business from companies like Amazon that compete with eBay. But Amazon has been elusive so far for PayPal. In any case, Amazon is becoming a bigger threat to PayPal, as it not only does its payments processing in-house, but also competes with PayPal in the merchant lending space. Is it about time PayPal starts fighting Amazon?
Countering the Amazon threat
There are plenty of other companies that have beef with Amazon that PayPal could team up with to tackle Amazon. According to a MoffettNathanson report cited by CNBC, PayPal could unlock a tremendous revenue opportunity if it worked more closely with Facebook (FB), another company facing the Amazon threat. Amazon is rapidly gaining ground in the digital advertising space, threatening the base of companies like Facebook and Google, according to eMarketer.
PayPal closed the third quarter with 254 million active customers globally.