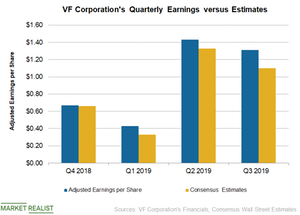 How Was VF Corporation's Q3 Bottom Line Performance?
Numbers in detail
VF Corporation (VFC) delivered adjusted EPS of $1.31 in the third quarter of fiscal 2019. It beat analysts' consensus estimate of $1.10 and rose 30.0% YoY (year-over-year).
On a reported basis, its EPS were $1.16 compared to -$0.23 in the same quarter of the previous year. Its bottom line growth was driven by its higher revenue and reduced income taxes amid its rising expenses.
In the third quarter, the company's total costs and operating expenses rose 6.0%. On a reported basis, its operating margin was 15.0%, an increase of 170 basis points. Its third-quarter gross margin improved 40 basis points to 51.9%.
On an adjusted basis (not including acquisitions), VFC's gross margin expanded 60 basis points to 52.2%. Its adjusted operating margin was 16.6%, reflecting a 270-basis-point expansion.
Article continues below advertisement
Changes to outlook
VFC's management has raised its fiscal 2019 EPS outlook due to the company's impressive third-quarter performance and its ongoing strategic efforts. In fiscal 2019, VFC expects its adjusted EPS to be $3.73. Earlier, it had guided for adjusted EPS of $3.65. Its expected tax rate for fiscal 2019 is 16.0%, and its expected adjusted gross margin is 51.0%. Its adjusted operating margin is expected to expand 90 basis points to 13.6%. Its cash flow from operations for fiscal 2019 is expected to be $1.8 billion, and its capex is expected to be $275 million.
Meanwhile, analysts expect PVH Corp.'s (PVH) adjusted EPS to rise ~19.4% YoY to $9.48 in 2018. For Hanesbrands (HBI), the adjusted EPS estimate stands at $1.72, reflecting a fall of 10.9% YoY in 2018.
Dividend hike
VFC is committed to paying dividends to its stockholders. The company last hiked its dividend by 11% to $0.51. Its annualized dividend now stands at $2.04.
VFC's dividend yield was 2.5% based on its January 18 closing price of $82.34. The dividend yields of Hanesbrands, PVH, and Ralph Lauren (RL) stood at 4.0%, 0.1%, and 2.2%, respectively, on January 18.