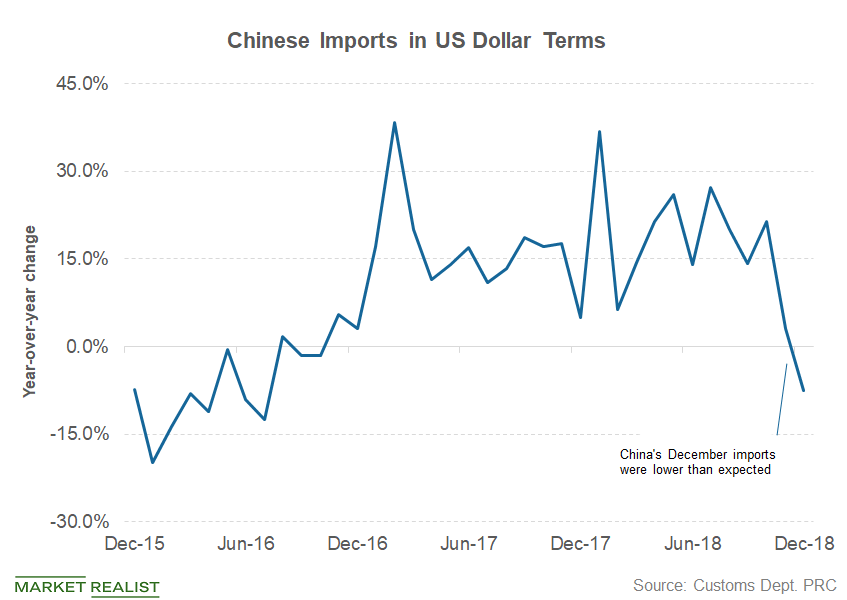 How the Trade War Opened the Fault Line in China's Economy
By Mohit Oberoi, CFA

Jan. 28 2019, Updated 2:45 p.m. ET
Structural issues
The trade war with the United States (SPY) has opened the fault line in the Chinese economy (BABA) (TCEHY).
The old model of higher infrastructure and real estate investments, industrial subsidies, and booming exports amid open access to the Western world have made China the world's second-largest economy.
Article continues below advertisement
Transition
But the old model had a limit that was realized by the Chinese leadership, so the country has been trying to steer its economy to the next level. The Made in China 2025 initiative is part of an exercise through which the country is focusing on advanced manufacturing (BA) (GE), such as robotics and electric vehicles (NIO). China has also been focusing more on increasing its domestic consumption. China's retail sales data are likely more crucial now than its fixed investment growth rates.
On the face of things, China has been trying to project itself as an open economy in a world laced with protectionism. The country also held a first-of-its-kind import expo last year, but the event didn't attract much enthusiasm from other countries (EEM).
Deleveraging
Higher debt levels have been another challenge for the Chinese economy. The government has approached the situation with caution this time, and it hasn't announced a big bang stimulus as it used to do. China (MCHI) has instead been taking modest and gradual measures, such as reserve rate cuts, to stimulate its economy. Loosening its purse strings or relaxing property investment regulations would run contrary to the structural reforms the country is pursuing.
While the move means there likely won't be any early respite from China's slowdown, it could help allay fears of a possible hard landing down the road.