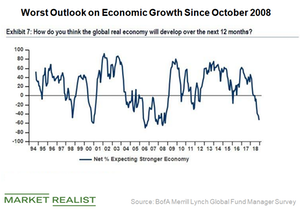 How Ray Dalio Beat the Market and Peers in 2018
By Anuradha Garg

Jan. 9 2019, Updated 7:32 a.m. ET
Not "long" any particular asset
So, what is it exactly that helped Ray Dalio's Bridgewater Associates beat the market and peers in 2018? The answer probably lies in the way the fund is designed. Most of the market suffered huge losses in the last quarter of 2018 as equities fell. Bridgewater, however, was having its typical year due to its design, wherein it isn't usually long on any particular asset.
Article continues below advertisement
Bridgewater's positioning
In a telephone interview with Reuters in December, Greg Johnson, co-chief investment officer of Bridgewater Associates, mentioned, "We are bearish on equities but it's a part of a diversified set of conditions across asset classes. That process has allowed us to have our alpha be uncorrelated over time to equity markets." He added, "We do equally well as equity markets go up or equity markets go down. So, we are having a normal year this year – as good as our typical year – and that is a function of the design of our alpha … we don't have any tendency to be long any particular asset."
Bridgewater's holdings
A lot of hedge fund managers got burned, as they had outsized positions in a few stocks and a lot of them had it in the over-owned tech (QQQ) space. Dalio's holdings are mostly concentrated in a small number of positions with most of its largest stakes in ETFs. Its top ten holdings form 71% of its total portfolio. At the end of Q3 2018, its five largest holdings were:
Apart from this, Dalio's strategy of having a "strategic asset allocation mix," or having a neutral portfolio during an overall period and then figuring out where there is alpha, could also have helped Dalio beat the market.