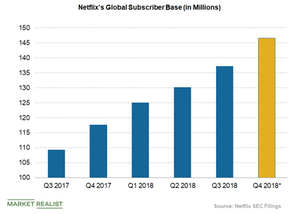 How Netflix's Rate Hike Could Impact Consumers
By Sophia Nicholson

Jan. 16 2019, Updated 5:05 p.m. ET
Netflix's hike in the subscription plan
Streaming king Netflix (NFLX) recently announced that it will hike prices of its monthly subscription plans by 13% to 18% in the US, depending on the plan. This increase was the highest price hike since it launched its streaming service around 12 years ago. The company has raised its subscription prices four times in the past with the last raise in October 2017, where the company increased prices of some of its subscription plans by 10%. Other subscription rate hikes didn't impact subscriber growth significantly. In Q3 2018, Netflix's global subscriber base reached 137.1 million and was anticipated to reach 146.5 million at the end of the fourth quarter.
Article continues below advertisement
New subscription plan
According to Netflix's new subscription plan, the basic package will now cost 12.5% more at $9 instead of $8, while the most popular HD standard plan will now cost its users $13, up 18.2% from $11. Customers subscribing for the 4K premium plan will have to pay $16, around 14.3% more than the previous rate of $14. The company said the price rise will take effect immediately for new customers. However, existing subscribers will see the impact of the price rise over the next three months.
Impact on consumers
According to reports, the subscription rate increase is unlikely to impact the majority of consumers. According to a survey report by Chicago-based consulting firm Waterstone Management Group, about 84% of people don't know how much they spend on subscription services like Netflix, Spotify (SPOT), and Amazon Prime (AMZN). Further, a lot of consumers are addicted to Netflix and Amazon Prime Video, cable TV, and music streaming services like Spotify, and therefore do not think about their subscription prices.