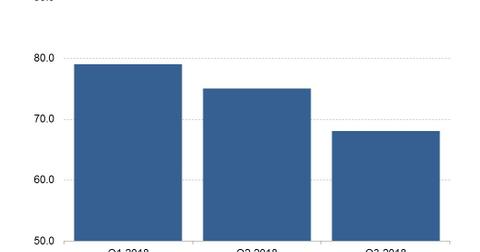 Here's What Snap Spends on Marketing
By Neha Gupta

Updated
Costly marketing
Marketing and product development are two of Snap's (SNAP) most costly endeavors. The two combined accounted for more than half of the company's operating expenses in the third quarter of 2018. Snap spent $68 million on sales and marketing in the third quarter, accounting for 22.8% of the revenue it generated in the same period.
Alphabet (GOOGL) and Facebook (FB) spent 26.7% and 13.9% of their revenues on sales and marketing activities in the third quarter, respectively. Twitter (TWTR) and Amazon (AMZN) spent 25.5% and 5.8% of their revenues on marketing, respectively, in the quarter.
Article continues below advertisement
Snap wants to broaden Snapchat's user base
Snap's marketing spending has been on the decline in the last three quarters, as we can see in the chart above. However, comments from the company's CEO, Evan Spiegel, during its third-quarter earnings call indicated that Snap might want to step up its marketing spending—mostly in advertising. 
Snap's Snapchat has been losing users in recent quarters. The company closed the third quarter with 186 million daily users worldwide, down from 188 million users in the second quarter. Spiegel suggested that Snapchat's struggle to grow its user base was more of a marketing challenge than a product one, adding that Snap wants to expand beyond its teen user base by attracting more users over 34 years old.
Repelling competition from Facebook and Twitter
In addition to campaigns to broaden its user base, Snap's marketing spending may also increase as the company seeks to repel competition for social media users from Facebook and Twitter.