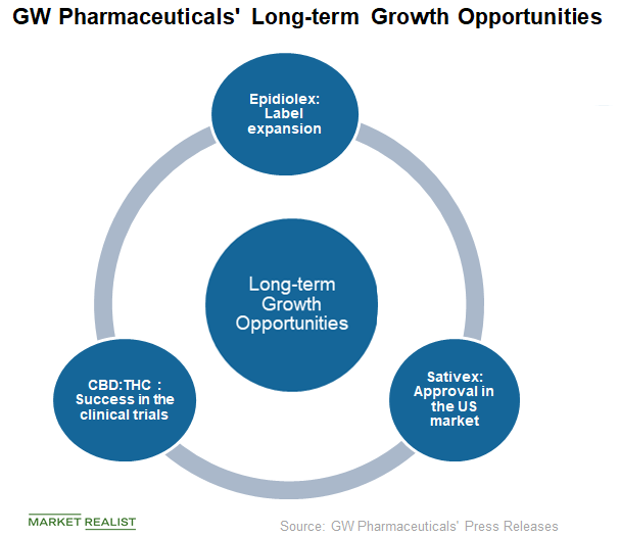 Here Are Some of GW Pharmaceuticals' Key Growth Drivers
By Daniel Collins

Jan. 11 2019, Updated 7:31 a.m. ET
Growth drivers
The US FDA (Food and Drug Administration) confirmed GW Pharmaceuticals' (GWPH) Epidiolex seven-year orphan drug exclusivity. The company anticipates a six-month extension for orphan drug exclusivity for pediatric patients.
The USPTO granted major favorable patents associated with the use of CBD in epilepsy. The patents include claims for certain seizure types related to Dravet syndrome and LGS. The patents of GW Pharmaceuticals' Cannabinoids will expire only after 2035. The market exclusivity, orphan drug exclusivity, and patents are expected to boost Epidiolex's growth in 2019 and beyond.
Article continues below advertisement
Growth opportunities
GW Pharmaceuticals completed three phase 3 trials in Europe with Sativex (nabiximos), which all produced positive results. GW Pharmaceuticals targets Sativex approval for the treatment of multiple sclerosis spasticity. The company received regulatory approval in 25 countries outside the US for the treatment of individuals with spasticity associated with multiple sclerosis. GW Pharmaceuticals is conducting research for evaluating the potential of Sativex for the treatment of schizophrenia and other neurological disorders.
GW Pharmaceuticals conducted phase 2 trials of CBD:THC for the evaluation of its efficacy in the treatment of Glioblastoma. GW Pharmaceuticals received an orphan drug designation from the US FDA and EMA (European Medicines Agency) for CBD:THC for the treatment of Glioblastoma.
GW Pharmaceuticals has also completed a phase 1 trial of its Neonatal Hypoxic-Ischemic Encephalopathy intravenous CBD program. The company anticipates initiating a phase 2 trial during the first half of 2019.
THC could boost the company's growth in the long term. The growth of GW Pharmaceuticals could boost the share prices of the Horizons Marijuana Life Sciences Index ETF (HMLSF). GW Pharmaceuticals makes up ~9.27% of HMLSF's total portfolio holding.