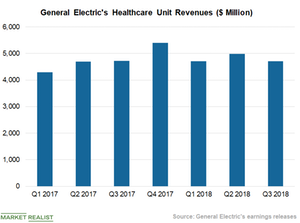 GE's Healthcare Unit Spin-Off to Enhance Shareholder Wealth
By Anirudha Bhagat

Jan. 4 2019, Updated 7:31 a.m. ET
Healthcare business spin-off
As part of its June 2018 major restructuring plan, General Electric (GE) intends to spin off the Healthcare segment and turn it into a standalone entity. If the sources are correct, the company has already confidentially filed for an IPO for the division in mid-December. The separation move is projected to complement GE's ambition of focusing on core businesses and driving its long-term sustainable growth and margins.
The company has decided to sell 49.9% of its healthcare business and distribute the remaining stake to shareholders in a tax-free spin-off. Therefore, the spin-off process should maximize shareholders' returns and enhance the company's liquidity position.
Article continues below advertisement
The move is believed to be another step by newly appointed CEO Larry Culp to optimize the company's business and strengthen its liquidity position. In November last year, GE's lending arm GE Capital announced selling $1.5 billion worth of its healthcare equipment finance portfolio to TIAA Bank for an undisclosed amount.
Healthcare segment
GE's Healthcare segment (XLV) offers medical imaging and information technologies, biopharmaceutical manufacturing technologies, and patient monitoring systems. The division is one of its better-performing units and is the fourth-largest contributor to its total revenues. In 2017, the division's revenues and operating profit increased 4.5% and 9%, respectively.
GE's Healthcare division contributed 17.2% to the company's third-quarter 2018 total revenues, which is slightly higher than the contribution of 16.5% in the year-ago quarter. The segment's sales grew 3% YoY on an organic basis mainly due to a 5% increase in its Life Sciences business and a 3% rise in its Healthcare Systems business. The segment reported a 3% YoY increase in orders on an organic basis. The Life Sciences and Healthcare Systems' subdivisions' orders grew 6% and 2%, respectively.
The division's third-quarter operating profit rose 2% YoY to $861 million on a reported basis, while its margin expanded by 30 basis points to 18.3%. Organically, the segment's operating profit rose 10%, and the margin expanded by 120 basis points mainly driven by higher volumes and efficient cost management. Lower pricing partially offset the growth.
GE's Healthcare segment competes with Baxter International (BAX), Boston Scientific (BSX), and Abbott Laboratories (ABT). Their third-quarter EPS witnessed YoY growth of 25%, 12.9%, and 13.6%, respectively.