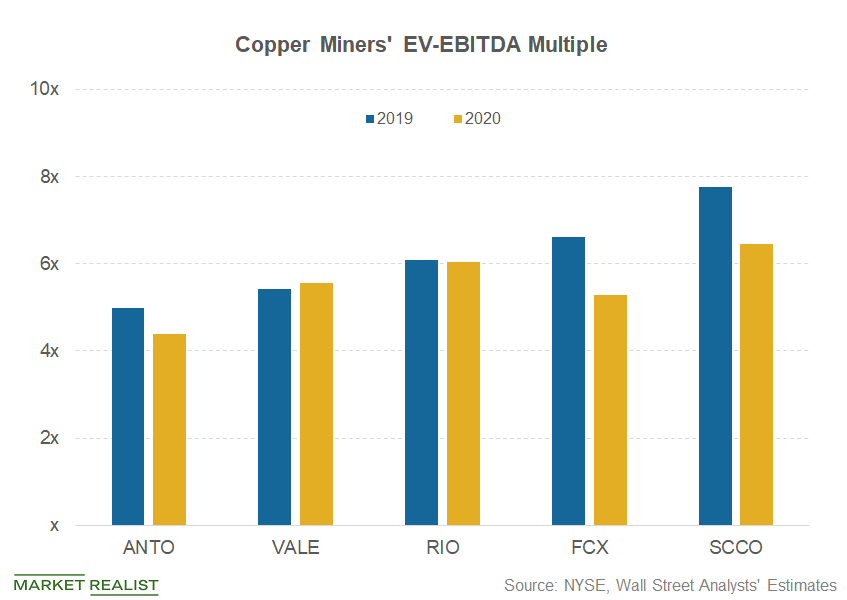 Freeport-McMoRan: Should You Think Like Warren Buffett
By Mohit Oberoi, CFA

Jan. 28 2019, Updated 7:31 a.m. ET
Freeport-McMoRan
Freeport-McMoRan (FCX) is valued at an EV-to-EBITDA (enterprise value-to-EBITDA) of 6.6x its 2019 expected EBITDA. Among other mining companies, Vale (VALE) and Rio Tinto (RIO) have EV-to-EBITDAs of 6.09x and 5.43x, respectively. Southern Copper (SCCO) has a 2019 EV-to-EBITDA of 7.7x.
If we consider these valuation multiples alone, Freeport could appear relatively overpriced. However, as we noted in the previous article, 2019 and 2020 are transition years for Freeport, and its production profile will likely be lower, hurting its earnings. The current slump in copper prices isn't helping Freeport either. Its earnings are expected to fall sharply on a yearly basis in 2019.
Article continues below advertisement
Valuation
However, in valuing Freeport, we need to consider it the way long-term investors such as Warren Buffett do. Buffett (BRK-B) sees companies as businesses and not mere tickers. While Freeport may not be on Buffett's radar, we have to look at its valuation as a business and not based on its one-year forward multiples.
During its fourth-quarter earnings call, Freeport estimated the replacement value of its assets to be between $35 billion and $45 billion. Freeport's EV is roughly $22 billion, so according to Freeport's own assessment, the stock is undervalued. Copper's long-term fundamentals look strong despite the noise. With Freeport getting close to the $10 price level, it could again offer a good entry point.