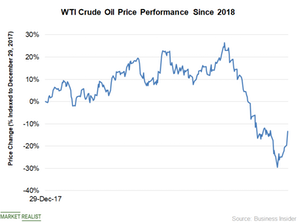 Falling Oil Prices Are Expected to Drive UAL's Q4 Profitability
By Anirudha Bhagat

Jan. 10 2019, Updated 2:45 p.m. ET
Falling oil prices
Oil prices have been seeing a bearish trend since October 2018 as fears of a supply shortage have vanished. Prices are now down over 31% from their peak of $76.40 per barrel on October 3, 2018, to $52.36 as of January 9, 2019.
Before October 2018, analysts were expecting a crude oil supply crunch in anticipation of stricter sanctions on Iran by the US government. However, the sanctions turned out to be much softer than expected, as the Trump administration gave temporary waivers to eight countries, including India and China, the major importers of Iranian oil.
Article continues below advertisement
With increased output from the United States, Russia, and Saudi Arabia, concerns about the global supply glut eased significantly. As a result, traders sold oil futures globally, which sent WTI crude oil prices down. Lower oil prices have raised hopes that airline operators will increase their profitabilities in the coming quarters.
United Continental's (UAL) wholly-owned subsidiary, United Airlines, expects its fourth-quarter fuel costs to be $2.41–$2.46 per gallon. This guidance range depicts a potential YoY (year-over-year) rise of 26%–29%.
High oil prices hurt profitability
Fuel expenses account for a large portion of airlines' costs, and they bore the brunt of heightened oil prices until the third quarter of 2018. Major US air carriers (JETS) United Airlines, Delta Air Lines (DAL), American Airlines (AAL), and Alaska Air Group (ALK) recorded over 30% increases in their respective third-quarter fuel costs, respectively, significantly affecting their pretax operating profits.
In the third quarter, United Airlines reported a 36.5% jump in its fuel cost per gallon to $2.32. The company's pretax operating profit rose just 1.8% despite the 11.4% rise in its revenue. Delta Air Lines' fuel cost per gallon surged 32.1% YoY to $2.22, while its non-GAAP (generally accepted accounting principles) pretax income fell 5.6% to $1.6 billion.
American Airlines' third-quarter fuel cost rose 37.8% to $2.28 per gallon from $1.66 in the previous year's third quarter. The company's non-generally accepted accounting principles pretax income fell 34.8% YoY to $341 million. Alaska Airlines' fuel cost per gallon soared 29.4% to $2.33, while its pretax operating profit fell 31.9% to $284 million.