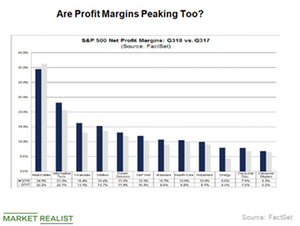 Did Ray Dalio's Bearish Stance on Markets Help?
By Anuradha Garg

Jan. 8 2019, Updated 5:20 p.m. ET
Bearish stance on markets
Unlike a lot of other hedge fund managers, Ray Dalio turned bearish on growth prospects in 2018. As reported by CNBC, Bridgewater Associates' co-chief investment officer, Bob Prince, told Financial Times in October that the economy is at an "inflection point where the economy is moving from hot to mediocre."
Article continues below advertisement
Slowing future growth
Prince said that due to the tight monetary policy in the US, the economy could see a deceleration going forward. He also mentioned that a lot of optimism has been factored into the equity valuations. High optimism coupled with slowing future growth prompted their prediction of a coming slowdown. This call was right on the money. Since the interview back on October 14, the S&P 500 (SPY), the Dow Jones Industrial Average (DIA), and the NASDAQ Composite (QQQ) have lost 9.4%, 7.9%, and 11.5%, respectively, up until the end of the year.
In a telephone interview with Reuters in December, Greg Johnson, co-chief investment officer of Bridgewater Associates said, "The biggest theme developing is that you are going to have significantly weaker growth, near recession level growth in 2019, based on our measures, and the markets are generally not pricing that in." He also said that while the markets are moving in that direction, the degree is smaller than the likely shift in economic conditions would entail.
Bearish on profit outlook
Jensen sounded even more bearish on the outlook for profits. He thinks that profits will slow much more significantly than growth. In Is Down the Only Way to Go for US Equity Markets, we highlighted how the S&P 500's (SPY) net profit margin reached 12.0% in Q3 2018. The margin expanded by 1.6 percentage points year-over-year and hit a record since FactSet started recording this data in 2008. As pressure ramps up with higher raw material, energy, and labor costs and the impact of tariffs, margins are expected to contract, especially as the effects of the tax impact could wear off going into 2019.