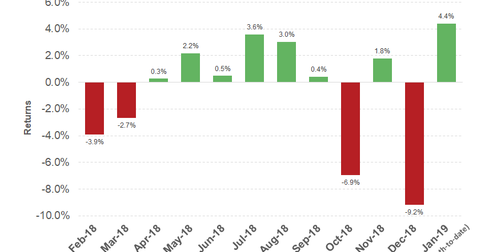 Could January Be the Best Month in a Year for the S&P 500?
By Jitendra Parashar

Jan. 17 2019, Published 8:18 a.m. ET
Recovery in the equities market
In the previous article, we looked at some key factors that hurt investors' sentiments and triggered a massive sell-off in the market in the fourth quarter. After struggling for four consecutive months, US equities markets seem to be trending upward again in January.
Several issues, including rising interest rates, the US-China trade war, and fears of a global economic slowdown, triggered the steep sell-off in the fourth quarter.
Article continues below advertisement
January recovery
The earnings guidance cut by American tech giant Apple (AAPL) came as another blow to investors on January 2, the first trading day of 2019. Among other factors, AAPL mainly blamed the slowing Chinese economy for its weaker earnings expectations.
Nonetheless, investors' high expectations related to ongoing US-China trade talks and the upcoming earnings season helped the broader market recover sharply in January. On January 16, solid Bank of America (BAC) and Goldman Sachs (GS) earnings results added optimism. As of January 16, the S&P 500 Index (SPY) was up 4.4% month-to-date, while the NASDAQ Composite Index (QQQ) was up 6.0%. If both these indexes manage to hold their gains by the end of the month, January will have been the best month for them in a year.
In January so far, US companies General Motors (GM), Ford Motor Company (F), Tesla (TSLA), Facebook (FB), Alphabet (GOOG), Netflix (NFLX), Amazon (AMZN), Advanced Micro Devices (AMD), and General Electric (GE) have risen 12.6%, 8.4%, 4.0%, 12.5%, 4.3%, 31.3%, 12.1%, 6.9%, and 18.6%, respectively. In contrast, Apple and Qualcomm (QCOM) have seen 1.8% and 2.9% month-to-date falls, respectively.
Next, we'll talk about the government shutdown and how it could affect the US economy.