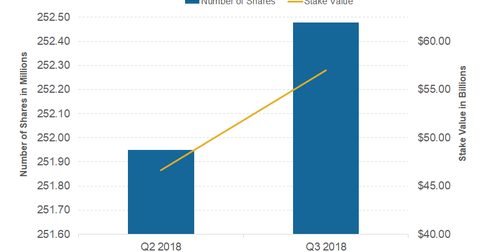 Could Apple's Q1 Report Help Warren Buffett Play His Cards Right?
By Jitendra Parashar

Jan. 29 2019, Published 8:06 a.m. ET
Warren Buffett's investment in Apple
In the previous part of this series, we discussed Warren Buffett's huge bets on Apple (AAPL). Buffett is known for choosing his investments carefully and giving the companies he invests in a fair chance to prove themselves in the long term. However, Buffett's huge bets on Apple might make him nervous about two key factors.
Article continues below advertisement
China 
Buffett has been positive about Apple's products and services. He knows about the huge future growth potential in China's market. During an interview in April, Buffett said that China "can have growth in the economy from a lower base that will exceed ours percentage wise for a long time." Buffett said that Apple is "destined for a fine economic future, just like we are." Buffett might not stay invested in a company that's struggling in China.
Apple isn't the only US firm that has been facing challenges in China lately. Other US companies including General Motors (GM), Ford Motor Company (F), Tesla (TSLA), and NVIDIA (NVDA) have faced headwinds in China.
Management's action plans
Buffett keeps his money invested in companies that he trusts will make the right decisions at the right time. While Buffett has openly shown his trust in Apple CEO Tim Cook's leadership, he might want to see Apple act quickly to resolve its issues related to declining iPhone sales, especially in China. During Apple's first-quarter earnings event, Buffett might watch Apple's plans and announcements about dealing with the recent challenges.
As of January 28, Apple's market cap was at $742 billion—lower than Microsoft's (MSFT) $807 billion, Amazon's (AMZN) $801 billion, and Alphabet's (GOOG) $748 billion. However, Apple's market cap was much higher than Facebook (FB), Intel (INTC), Oracle (ORCL), Netflix (NFLX), NVIDIA, and Qualcomm's (QCOM) market caps of $424 billion, $213 billion, $178 billion, $146 billion, $84 billion, and $61 billion, respectively.
Read What's Expected for Apple in its First Quarter of Fiscal 2019 to learn about analysts' estimates for Apple's first-quarter earnings.