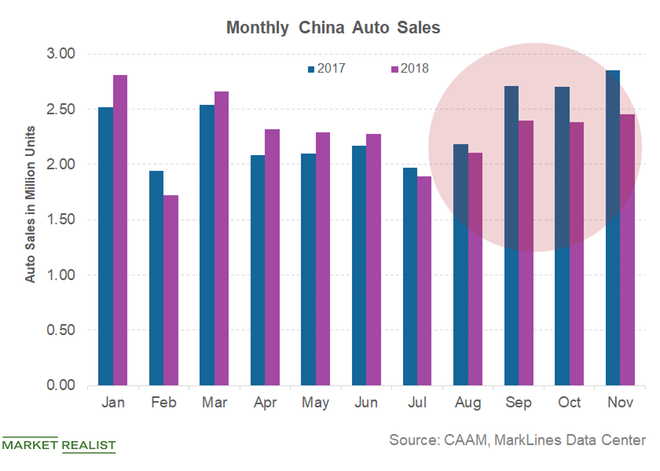 China's Growth Drivers: Subsidies, Investments, and Manufacturing
By Mohit Oberoi, CFA

Jan. 28 2019, Updated 1:15 p.m. ET
China's economy
As we noted in the previous article, China's GDP rose 6.6% last year, the country's slowest rate of expansion since 1990. It would be a mistake to expect China, a $14 trillion economy, to grow in the double digits going forward, as its economic model has been strained.
To get a better picture of China's current economic slowdown, let's take a look at some of the key drivers of its economy.
Article continues below advertisement
Key drivers
Industrial subsidies and infrastructure investments have been two important pillars of China's economic growth. China became a manufacturing powerhouse as state subsidies and low-cost labor prompted many companies to shift their manufacturing to the country. US companies (SPY) such as Apple (AAPL) have used China as a manufacturing base due to its low-cost advantage and its manufacturing ecosystem.
Manufacturing
China has developed an enviable manufacturing ecosystem that's tough—if not outright impossible—to emulate. China's restrictive trade policies have also helped the country increase its manufacturing prowess, as companies including General Motors (GM) and Ford Motor Company (F) have had to form joint ventures in China to gain access the world's most populous country.
As China's economy and per capita income grew over the years, it rose to the status of an upper-middle-income country, according to the World Bank's classification. A booming middle class meant more demand for goods such as cars, and China became the world's largest automotive market. Massive investments into the housing sector also boosted the Chinese economy (FXI).
However, there was a limit to China's growth model, and the fault line became apparent amid the country's trade standoff with the United States. We'll discuss this aspect in detail in the next article.