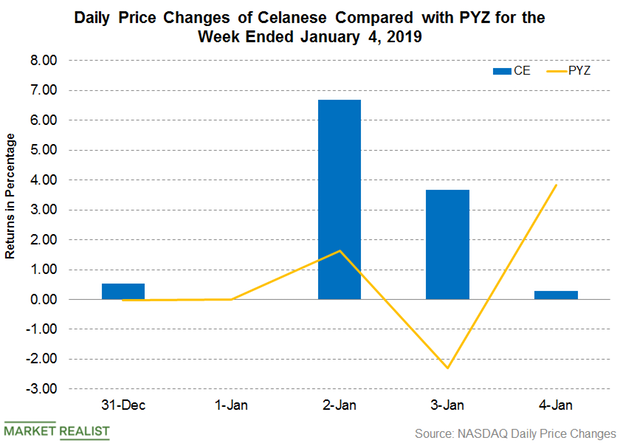 Celanese Completed the Next Polymers Acquisition
By Peter Neil

Jan. 7 2019, Updated 2:50 p.m. ET
Celanese acquires Next Polymers
On January 2, Celanese (CE) announced that it completed the acquisition of Next Polymers—one of India's largest engineering thermoplastics compounders. Celanese entered into a definitive agreement with Next Polymers on October 11. However, Celanese didn't disclose the financial aspects of the deal.
The acquisition will likely help Celanese improve its footprint in India. The impact of the acquisition will likely be reflected in the first quarter. Next Polymers has a capacity production of 20 kilotons of various engineering thermoplastics compounders.
Article continues below advertisement
Scott Sutton, Celanese's COO, said, "This acquisition complements our rapidly growing India business and establishes Celanese as a leader in the Indian ETP market by broadening our ability to serve nylon and other engineered materials customers with high product quality and service levels, while also offering our customers a wider range of polymer products."
Stock price update
Celanese ended the first week of 2019 on a positive note. The stock closed at $91.46 and gained 2.2% for the week ending January 4. Despite the gains, Celanese stock traded 11.8% below the 100-day moving average price of $103.68. Celanese's 100-day moving average has fallen from $104.38 to the current levels, which indicates weakness in the stock. For 2018, Celanese stock declined 16%. Eastman Chemical (EMN), LyondellBasell (LYB), and Westlake Chemical (WLK) declined 21.10%, 11.6, 24.6%, and 37.9%, respectively, in 2018.
Celanese's 14-day RSI (relative strength index) score of 36 indicates that the stock isn't overbought or oversold. An RSI of 30 and below indicates that the stock is oversold. An RSI of 70 and above indicates that the stock has moved into the overbought position.
Investors could hold Celanese indirectly through the Invesco DWA Basic Materials Momentum ETF (PYZ). PYZ had 3.2% exposure to Celanese as of January 4. PYZ gained 3.1% for the week.