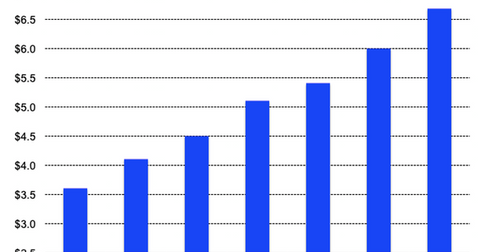 Can Amazon Remain the Most Valuable Company?
By Sanmit Amin

Jan. 15 2019, Published 10:27 a.m. ET
Amazon is now the most valuable company in the world
Apple (AAPL) held the title of the world's highest-valued public company for as long as seven years after it eclipsed ExxonMobil (XOM) back in 2011. This performance was the result of the exceptional growth in its smartphones.
However, out of nowhere, Microsoft (MSFT) took the top spot in the last week of November 2018 as other tech giants, including Amazon (AMZN) and Apple, saw their stock prices plummet while Microsoft's stock remained relatively steady.
In the first week of January 2019, though, Amazon took the coveted top spot after rallying more than 20%. However, the question remains whether the e-commerce giant can hold on to it.
Article continues below advertisement
Can Amazon remain number one?
Apple's valuation looks very attractive following the recent plunge in its price, and one can never rule out the possibility of a bounce back given the kind of financial muscle the company has.
Amazon has a few things going for it, though. The company is investing heavily in the logistics for its core e-commerce business to reduce its reliance on the likes of FedEx. It's also investing heavily in attracting more consumers to its ecosystem via Amazon Prime memberships. These investments could put Amazon in good standing in the future.
Amazon is very well placed in the cloud sector, with its Amazon Web Services growing at a fast clip despite its size. The company's digital ad business is also growing quickly.
These two businesses are lucrative and allow the tech giant to operate its core business at very aggressive margins, which is bulldozing its competitors. The company's entry into the smart speaker space could yield huge dividends in the future.
Amazon's growth prospects despite its heft mean that it could continue to be the most valuable company for some time. Markets these days favor stocks with higher growth prospects—sometimes despite their high valuations.