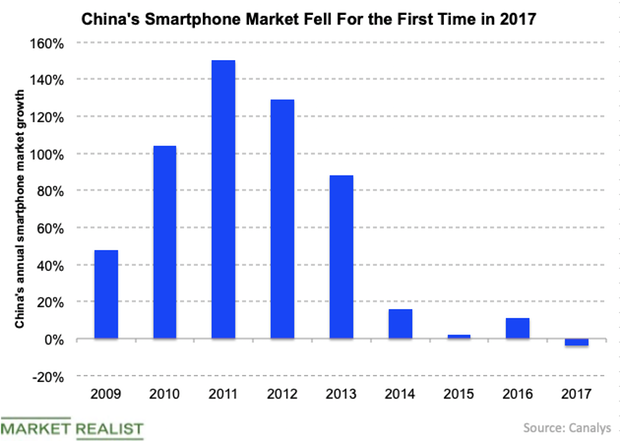 Apple's Struggles in China Continue
By Sanmit Amin

Jan. 29 2019, Published 1:12 p.m. ET
Apple's shipments in China fell 22.1% YoY
When Apple (AAPL) slashed its guidance for its first quarter of fiscal 2019, its CEO, Tim Cook, cited weakness in China as one of the biggest factors behind the slowdown.
The latest report by Strategy Analytics seconds that notion. According to the report, smartphone sales in China fell 11% YoY (year-over-year) in the fourth quarter of 2018 to 107.9 million units. For the whole year, the report said that shipments in the country fell 11.2% to 408.5 million.
Apple's shipments fell a whopping 22.1% in the fourth quarter to 10.9 million iPhones. For the whole year, though, the picture isn't so bleak. According to Strategy Analytics, Apple sold 34.2 million iPhones in 2018, a fall of 6.8% from 2017.
Article continues below advertisement
Huawei's influence continues to grow in China
However, the steep decline in Apple's first quarter paints a dismal picture. The greater China region still accounts for over one-fifth of the company's total revenue.
Not only is the Chinese smartphone market slowing, but it also faces stiff competition from local makers such as Huawei. Chinese customers seem to be balking at Apple's increasing iPhone price tags. Apple had an 8.4% market share in the country in 2018.
Huawei, which has overtaken Apple's second-place spot in terms of global shipments, rules the roost in China. Huawei's shipments in China increased 23.5% YoY to 30 million units in the fourth quarter. Other Chinese vendors saw flat to negative growth in the fourth quarter and 2018.