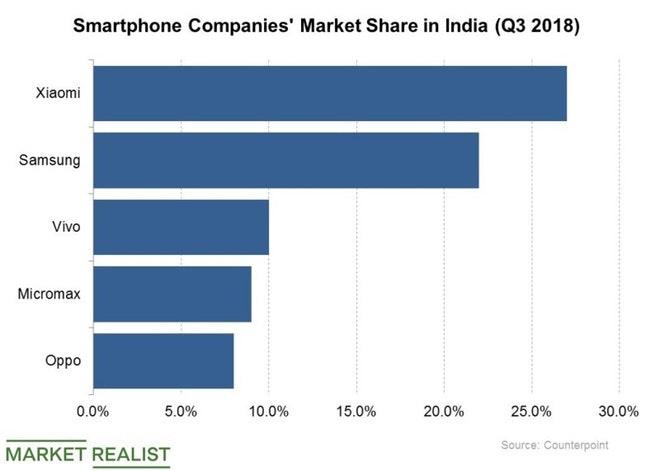 Apple's Largest Partner Could Start Manufacturing in India
By Sanmit Amin

Jan. 24 2019, Updated 8:34 a.m. ET
Apple has struggled in India
Apple (AAPL) hasn't been able to crack the fast-growing Indian market yet, as we've already touched upon in the past. The iPhone maker's market share in the country is negligible.
India is a fast-growing market in an otherwise declining global smartphone market. So far, it's been a big miss for the company. The silver lining—if there is one—is that Apple has a lot of scope for growth in the country if it can change a few things.
Article continues below advertisement
The base iPhone XS model costs $999 in the United States. However, India's lofty luxury import tariff and the weak Indian rupee mean that the same phone costs upwards of $1,400 in the country. Instead, price-sensitive Indians are choosing value-for-money Chinese smartphones from companies such as Xiaomi.
Apple could be considering assembling its flagship iPhone in India
According to a report by the Wall Street Journal, Apple's biggest manufacturing partner, Foxconn, is thinking of producing iPhones in India. The report points out that the friction between the United States and China may have prompted the company to diversify its supply chain.
Additionally, manufacturing iPhones in the second-biggest market in the world could help the company sidestep India's hefty import taxes.
If Apple could find a way to tap India's market, it could nullify the effect of dwindling sales in China, which were the biggest driver of the slowdown in the company's holiday quarter, according to CEO Tim Cook.
Last month, Reuters also reported that Foxconn would be assembling iPhones in India this year.