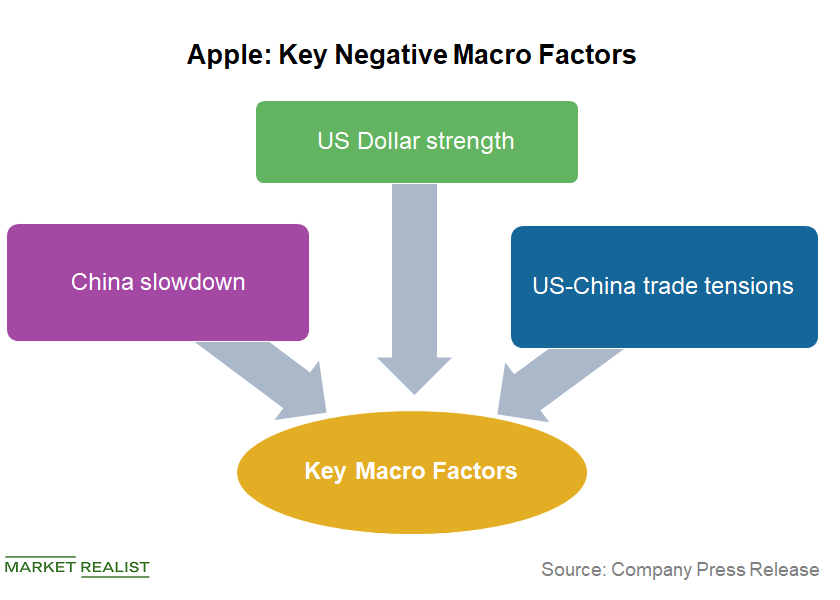 Apple: What Macro Factors Did Cook Blame for Weak iPhone Sales?
By Jitendra Parashar

Jan. 3 2019, Updated 11:10 a.m. ET
Apple
In the previous parts of this series, we discussed how the world's largest tech company, Apple (AAPL), had to revise its guidance for the first quarter of fiscal 2019, which ended on December 29. Apart from key internal issues such as the timing of new iPhone launches and the ramp-up of many other new Apple products, it also blamed some macro factors. Let's take a closer look.
Article continues below advertisement
Key negative macro factors
In the fourth quarter of 2018, concerns about rising interest rates and US-China trade tensions took a toll on investors' sentiments. These concerns drove the stock market down, as the key US indexes, the S&P 500 Index, the NASDAQ Composite Index, and the Dow Jones lost 14.0%, 17.5%, and 11.8%, respectively, last quarter.
In the second half of the fourth quarter, fears of slowing global economic growth, especially Chinese economic growth, haunted investors. In the last few months, China's falling international trade figures and five consecutive months of auto sales drop remained worrisome.
On Wednesday, Apple's CEO Tim Cook, in his letter to investors, noted weakness in the Chinese economy as one of the reasons for weaker-than-expected iPhone sales. Cook said, "while we anticipated some challenges in key emerging markets, we did not foresee the magnitude of the economic deceleration, particularly in Greater China." He added, "We believe the economic environment in China has been further impacted by rising trade tensions with the United States."
In the last six months, America's trade tensions with many nations, have started affecting US companies including Apple, Alphabet (GOOG), Amazon (AMZN), and Tesla (TSLA). The US-China trade tension also hurt the future growth prospects of Chinese companies including Alibaba (BABA) and Baidu (BIDU).
While it was apparent to many analysts that China's slowdown would affect Apple's sales in the future, Apple's worse-than-expected results for the quarter ended December 29, 2018, added fuel to investors' worries.