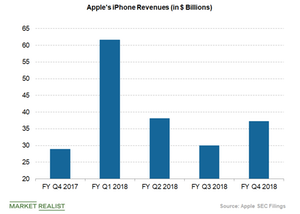 Apple Rebounded after Massive Decline on Thursday
Apple stock recovers
Apple (AAPL) stock rose 4.27% on Friday and closed at $148.26. Friday's gain of more than 4% follows the significant decline of around 10% on January 3 after the company announced waning iPhone sales in China (MCHI) (FXI) and slashed its revenue and gross margin guidance for the first quarter of fiscal 2019, which ended in December.
According to IHS analyst Samuel Pierson, Apple's stock price rebounded due to panic-buying as investors with short positions in the stock wanted to make profits from Thursday's decline. Apple's stock gain was driven by the overall market rally on Friday after encouraging employment reports and the Fed's patience related to rate hikes.
Article continues below advertisement
Apple guidance slashed
On Wednesday, Apple's CEO reduced its guidance and stated that it now expects sales of approximately $84 billion for the holiday quarter, lower than the Wall Street consensus of $91.3 billion. On November 1, Apple gave a sales outlook in the range of $89 billion to $93 billion for the December quarter.
The iPhone maker has also trimmed its forecast for the gross margin and operating expenses for the first quarter. The company now expects margins to be ~38%, which is on the low end of the previous guidance range of 38% to 38.5%. Similarly, operating expenses are projected to be approximately $8.7 billion, which is at the lower end of the earlier guided range of $8.7 billion to $8.8 billion for the quarter ending in December.
Apple has been struggling for the past few months amid weakening demand for iPhones, which is the primary driver of the company's revenues. Also, US (SPY)-China trade war concerns, the $29 iPhone battery replacement program, and fewer iPhone upgrades than anticipated have also dented iPhone sales. Apple also expects foreign exchange costs and weakness in emerging markets to hurt the sales in the holiday quarter. In the fourth quarter of fiscal 2018, iPhone sales grew 29% YoY to $37.2 billion.