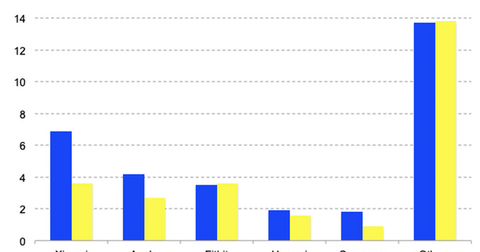 Apple May Be Looking to Subsidize Its Apple Watch
By Sanmit Amin

Jan. 17 2019, Published 4:03 p.m. ET
Apple is reportedly in talks with Medicare to subsidize Watch
Apple's (AAPL) new ECG (electrocardiogram) feature on its latest smartwatch has already seemed to have saved many lives. The feature's addition is a sign that Apple wants to evolve its smartwatches into a medical tracking device as well. According to a report by CNBC, the tech giant is in talks with at least three private Medicare plans to subsidize the cost of the Apple Watch for users over 65 to use as a health tracker.
The latest device, which includes ECG and other health features like fall detection, could benefit consumers over 65 years old, but not all will be able to afford the $399 price tag, as the report points out.
If Apple is successful in getting the Apple Watch subsidized, it could be a win-win situation for both the company and older citizens.
Article continues below advertisement
Apple Watch shipments are growing rapidly, but its contribution is small
The Apple Watch is seeing stellar growth, but it still makes up a very small portion of the company's total revenue. "Other Products," the segment that Apple Watch is a part of, made up only 6.7% of Apple's total revenue in its September quarter. The segment, though, grew 31% year-over-year.
Along with Apple, Fitbit (FIT) is also pushing hard to add more health features to its trackers. The company announced on Wednesday, January 16, that it is now a part of National Institutes of Health's new "All of Us" health initiative.