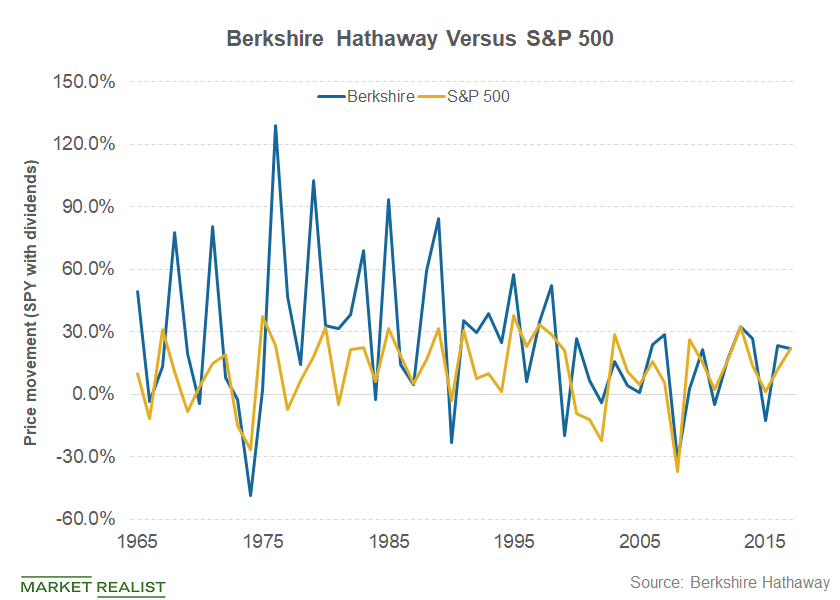 Analyzing Warren Buffett's Investments in the 21st Century
By Mohit Oberoi, CFA

Jan. 16 2019, Updated 1:00 p.m. ET
Warren Buffett
As we noted in the previous part, Berkshire Hathaway (BRK-B) has an enviable record of beating the S&P 500 (SPY). Berkshire Hathway managed to beat the market in 2018. However, the company's outperformance compared to the markets hasn't been that impressive since 2000—compared to previous years.
Article continues below advertisement
Recent performance
Looking at Berkshire Hathaway's performance compared to SPY, it outperformed SPY by 19.6% between 1965 and 2000 based on the simple average. Berkshire Hathaway's performance looks incredible over a long-time horizon. However, if we look at Berkshire Hathaway's performance between 2000 and 2017, it outperformed SPY by 2.1%. Although Berkshire Hathaway outperformed SPY, the numbers weren't near previous years. A deeper dive into the data would show that Berkshire Hathaway actually underperformed SPY between 2009 and 2017. The calculations are based on data from Berkshire Hathaway's annual report. SPY's returns include the dividends.
Apple
In the past few months, the markets have focused on Apple (AAPL). Apple was Berkshire Hathaway's biggest holding at the end of the third quarter. However, the stock has seen a selling spree in the fourth quarter. The stock saw its market capitalization fall below $700 billion during the fourth quarter. IBM (IBM) and General Electric (GE) are the other two investments that didn't work well for Warren Buffett over the last decade.
Read Buffett and GE: Is It the Right Number and Right Time to see whether General Electric might interest Buffett again.
Why hasn't Buffett been beating the markets like he did in the past?