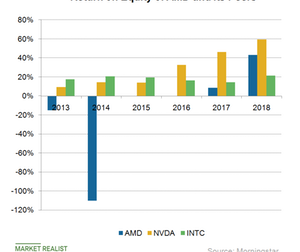 AMD's Efficiency Ratios Could Improve Further in 2019
By Puja Tayal

Updated
AMD's efficiency ratios
Advanced Micro Devices (AMD) is preparing for a strong year, in which it is set to introduce its next-generation Ryzen, EPYC, and Radeon processors built on TSMC's (TSM) 7nm[1.nanometer] node throughout the year. The chip supplier's 12nm chips were widely adopted last year, increasing AMD's product mix of wider-margin chips and profit margins.
ROI[2.return on investment] is the net income a company earns on its total invested capital. AMD's capital spending is growing as future technologies are complex and capital intensive—its 2018 capital spending is expected to have increased by $53 million, and its net income, by more than $300 million, resulting in a stronger ROI.
Article continues below advertisement
However, a company's ROI, used to compare with peers how efficiently it delivers returns, shouldn't be the only metric considered. Long-term investors often look at companies' ROE[3.return on equity] and invest in those with the highest ROE and lowest price. Risk-averse investors also look at volatility.
Return on equity
A company's ROE shows the profit a company can generate from shareholder capital. A company can improve its ROE by repurchasing stock or improving its net income.
As AMD does not buy back stock, its ROE is largely driven by its net income. As shown in the above graph, the last two years have been very strong for AMD and NVIDIA (NVDA), with their discrete GPUs[4.graphics processing units] being widely adopted by PC gamers, crypto miners, data centers, and the cloud. This strong adoption of AMD's GPUs increased its net income from wider-margin products, thereby increasing its ROE from 8.4% in 2017 to 43.3% in 2018. Meanwhile, NVIDIA's ROE also rose, from 46% to 59%, driven by its high-end GPU mix growing.
Whereas both companies are facing near-term GPU headwinds, they are unlikely to affect their efficiency ratios significantly. In fact, AMD's ROE is expected to rise as its share of the server CPU market grows. Next, we'll see what investors and analysts think about AMD.
Check out all the data we have added to our quote pages. Now you can get a valuation snapshot, earnings and revenue estimates, and historical data as well as dividend info. Take a look!