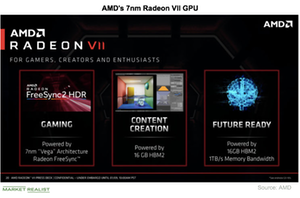 AMD Enters the High-End Gaming GPU Segment with Radeon VII
By Puja Tayal

Jan. 11 2019, Published 11:07 a.m. ET
The world's first 7 nm desktop GPU
Advanced Micro Devices (AMD) was the showstopper at CES (Consumer Electronics Show) 2019 on January 9. The company announced its Radeon VII desktop GPU (graphics processing unit) based on its second-generation 7 nm (nanometer) Vega architecture.
Radeon VII is the world's first 7 nm desktop GPU designed to deliver an enhanced experience for the latest AAA, esports, and VR games, demanding 3D rendering, and video-editing applications. It's also designed to handle next-generation compute workloads.
Article continues below advertisement
Performance
At CES, AMD's CEO, Lisa Su, showed the performance improvement Radeon VII brings to the table compared to its previous highest-performing GPU, Vega 64. She stated that compared to Vega 64, the new Radeon VII GPU improves gaming performance by 29% and content-creation performance by 36%.
Radeon VII can run the latest games at more than 60 frames per second on the highest settings while running at 4K resolution. Without 4K, the GPU delivers high refresh rates, with a high dynamic range enabled at 1080p, ultrawide 1440p, and general productivity at 8K. Radeon VII is set to hit the market on February 7.
The success of any new product depends on its adoption. Su stated that Alienware Area 51 will combine Radeon VII with AMD's second-generation Ryzen Threadripper CPU to deliver a superior gaming experience in 4K. She added that Radeon VII has been adopted by esports team Fnatic for training and online competition. French video game company Ubisoft plans to bring Radeon to its upcoming AAA game Tom Clancy's The Division 2.
The growing adoption of Radeon VII by gaming enthusiasts could make AMD a strong player in the high-end GPU market.
No ray tracing in Radeon VII 
The new Radeon VII GPU doesn't offer real-time ray tracing, which is being offered by NVIDIA's (NVDA) GeForce RTX GPUs. In fact, NVIDIA brought ray tracing to midrange GPUs with its RTX 2060 GPU, priced at $349, putting it at a technology advantage over AMD.
Su didn't compare AMD's new GPU with NVIDIA's GeForce RTX GPUs. However, AMD hasn't ruled out ray tracing. Next, we'll consider AMD's views on ray tracing.