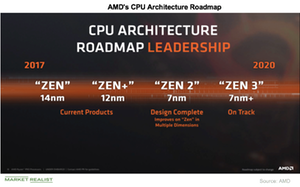 AMD Announces 7 nm Ryzen CPU Range at CES 2019
By Puja Tayal

Jan. 14 2019, Updated 10:30 a.m. ET
AMD's Ryzen 3000 series
So far, we've looked at Advanced Micro Devices' (AMD) GPU (graphics processing unit) announcements at CES (Consumer Electronics Show) 2019. The company has announced its second-generation Ryzen 3000 series CPUs (central processing unit) for laptops built on the 12 nm (nanometer) node. It's also announced its most anticipated Ryzen desktop CPUs and EPYC server CPUs built on TSMC's (TSM) 7 nm node.
Article continues below advertisement
AMD's third-generation 7 nm Ryzen CPU range
At CES 2019, AMD's CEO, Lisa Su, gave a preview of one chip from the company's third-generation Ryzen desktop CPU range. The sample chip had eight cores/16 threads and was benchmarked against Intel's (INTC) ninth-generation Core i9-9900K CPU. AMD's 7 nm sample CPU delivered a performance similar to Intel's i9-9900K CPU's while consuming less power.
Su didn't provide many details about the 7 nm desktop CPU but stated that it had ample room to add more cores. This statement hinted that AMD might add more than eight cores to its upcoming third-generation Ryzen CPUs. Su also stated that the third-generation Ryzen CPUs would support PCIe (peripheral component interconnect express) 4.0.
AMD expects to roll out its 7 nm Ryzen CPU in the first quarter, while Intel expects to roll out its ninth-generation CPU in the first half.
AMD versus Intel
AMD's 7 nm Ryzen CPU launch will put the company ahead of Intel in terms of process node manufacturing until the latter launches its 10 nm (nanometer) node by the end of the year. AMD could see a surge in its stock price as it rolls out its 7 nm Ryzen series throughout the year and its Radeon VII GPU gains traction in the gaming market.
AMD could see significant stock price movement in mid-2019 when it launches its 7 nm EPYC server CPU, which is expected to help it gain double-digit server CPU market share from Intel. Next, we'll look at AMD stock's movements following its product announcements.