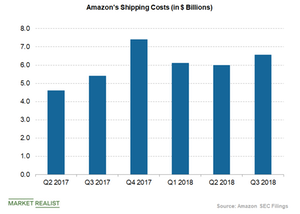 Amazon Looks to Expand Whole Foods Stores to Boost Prime Now
By Sophia Nicholson

Jan. 2 2019, Updated 3:35 p.m. ET
Amazon to expand Whole Foods stores
Retail e-commerce giant Amazon (AMZN) has reportedly been adding more Whole Foods stores as it aims to boost its Prime Now service and make two-hour deliveries achievable for more Prime members. The move comes as part of Amazon's plans to aggressively expand its grocery, delivery, and pickup services to more cities across the United States.
Currently, Prime Now's two-hour delivery service is available in over 60 US cities, but the company plans to make the service available in nearly all of its 475 Whole Foods stores plus new stores. Though the company's new store locations aren't disclosed in the Wall Street Journal's report, it's opening them in places such as Idaho, southern Utah, and Wyoming, where there are no Whole Foods stores yet.
Article continues below advertisement
Customers save through Prime Now and Whole Foods stores
Since the acquisition of Whole Foods in August 2017, Amazon has been offering its customers lower prices and exclusive deals on Whole Foods Market's natural and organic foods. Through its Prime Now service, Amazon gives a free two-hour delivery option to Prime subscribers in more than 60 cities. Online grocery pickup from Whole Foods stores within 30 minutes is also reportedly available in nearly 30 cities.
Free shipping costs a lot for Amazon
Amazon gives free shipping to its non-Prime members on a minimum order of $25, whereas customers are charged up to $9.98 per item for same-day delivery. Walmart (WMT), on the other hand, offers free two-day shipping on orders of $35 or more with no membership fee.
On November 5, Amazon announced free shipping without a minimum purchase during the holiday season to boost sales. Amazon's move followed a similar one by retail rival Target (TGT), which offered free two-day shipping from November 1 to December 22 with no minimum purchase requirement. Best Buy (BBY) also offered free shipping in two or fewer days with no minimum purchase until December 25.
Though Amazon's free shipping attracts customers and has saved customers millions of dollars via Prime Now, Amazon's expenses have risen on the back of increasing shipping costs. Amazon's shipping costs totaled $6.6 billion in the third quarter, up 21.6% from a year earlier.