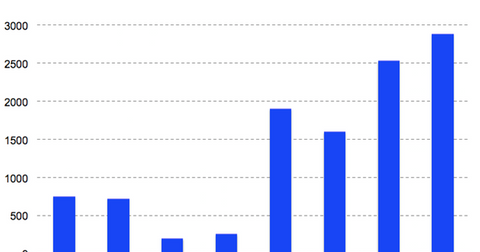 Amazon Go Could Be a Big Business in the Coming Years
By Sanmit Amin

Jan. 9 2019, Published 5:03 p.m. ET
Amazon has now opened nine Go stores
Amazon (AMZN) has slowly been increasing its brick-and-mortar presence. Its first major push was its acquisition of Whole Foods for $13.7 billion in 2017.
The company has also been increasing its number of cashierless Amazon Go stores, through which it's trying to bring more convenience to its customers. Amazon has quietly opened nine Amazon Go stores to date in the United States.
Amazon Go stores let customers pick products off of store shelves and leave the store with them. Customers are charged when leaving the store as a number of sensors and cameras automatically identify the product that was grabbed.
Amazon wants to open as many as 3,000 Amazon Go Stores by 2021, according to Bloomberg. According to Morgan Stanley's estimates, Amazon will need to shell out $3 billion to do so.
Article continues below advertisement
Amazon has been expanding its revenue sources
If Amazon does open 3,000 Amazon Go stores, it will represent another source of revenue for the company, which has already been expanding into a variety of markets. Analysts expect the Go store to make more money than an average convenience store. Hence, Amazon's aggressive spending on the concept might pay dividends in the long term.
Amazon's increasing number of viable revenue sources is one of the drivers of the strength in its stock. The company has displaced Microsoft (MSFT) as the most valuable public company in the world with a market cap of $810 billion.