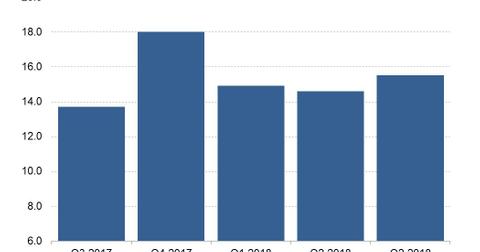 Amazon Creates a Lightweight Shopping App for India
By Ruchi Gupta

Jan. 8 2019, Updated 2:00 p.m. ET
Internet companies creating slimmed-down apps for emerging markets
Amazon (AMZN) has tweaked its shopping app to work with cheap smartphones and run on slow mobile networks in India as part of its strategy to accelerate its penetration of the Indian retail industry, particularly in rural parts of the country, the Wall Street Journal has reported.
Amazon's building an app that can run smoothly on cheap phones and slow connections has seen it join the ranks of social media companies such as Facebook (FB), which has also built lightweight apps aimed at emerging markets, in which Internet connectivity can be patchy. Facebook has created slimmed-down versions of its namesake app and its Messenger and Instagram apps. Facebook Lite arrived in India in June 2015, and Instagram Lite quietly rolled out in June 2018, according to a TechCrunch report. Twitter (TWTR) has created Twitter Lite, and Google (GOOGL) has created YouTube Go to try to broaden their accessibilities in emerging markets.
Article continues below advertisement
Amazon is betting $5.0 billion on India
Amazon is betting big on India for its e-commerce business. The company has committed to investing more than $5.0 billion in its retail business in India, a country whose retail e-commerce market is expected to more than double to almost $72 billion by 2022, according to eMarketer estimates. But the race for the opportunity in India's e-commerce industry is tight, with Walmart (WMT) spending $16 billion to purchase a 77% stake in Amazon's local rival, Flipkart, last year.
India contributes to Amazon's international segment, in which revenue rose 13% year-over-year to $15.5 billion in the third quarter.