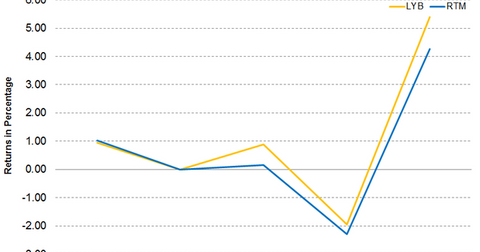 A. Schulman Announces Dividend for the Convertible Special Stock
By Peter Neil

Updated
A. Schulman's dividend for the convertible special stock
On January 4, A. Schulman, a subsidiary of LyondellBasell (LYB), announced a quarterly dividend for its convertible special stock. A. Schulman declared a dividend of $15.00 per share. A. Schulman has set January 15 as the record date. The dividend for the convertible special stock is expected to be paid on February 1. Investors who hold the convertible special stock on the record date will be eligible for the dividend.
In 2017, A. Schulman paid $7.5 million towards the convertible special stock. At the end of August 2017, there were 125,000 convertible special stocks, which means that A. Schulman would be paying ~1.85 million in dividends.
Article continues below advertisement
LyondellBasell's stock performance
LyondellBasell remained positive in the first week of 2019. The stock gained 5.25% for the week and closed at $86.70. Despite the gains, the stock traded 10.9% below the 100-day moving average price of $97.32. LyondellBasell's 100-day moving average has fallen from a high of $111.04, which indicates the downward trend in the stock.
In 2018, LyondellBasell fell ~24.6%. Celanese (CE), Westlake Chemical (WLK), and Eastman Chemical (EMN) have fallen 16.0%, 37.9%, and 21.1%, respectively. LyondellBasell's 14-day relative strength index of 54 indicates that the stock isn't overbought or oversold.
Investors could hold LyondellBasell indirectly by investing in the Invesco S&P 500 Equal Weight Materials ETF (RTM), which gained 3.1% the previous week. RTM has invested 4.3% of its portfolio in LyondellBasell as of January 4.