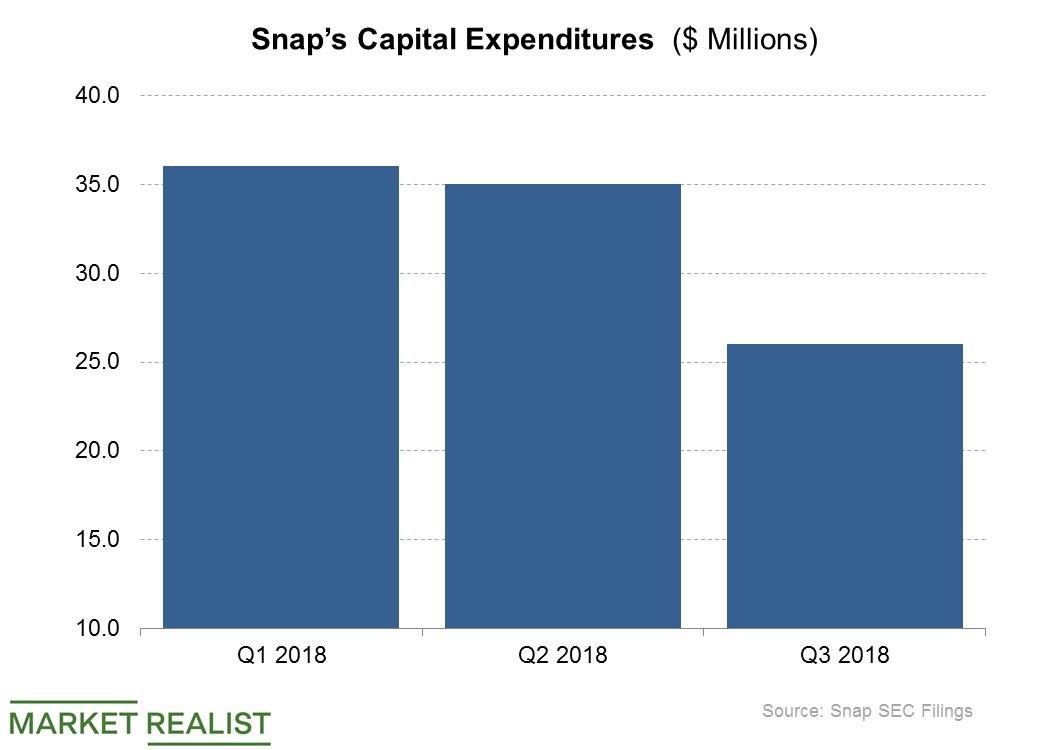 A Peek into Snap's Capital Spending
By Neha Gupta

Jan. 29 2019, Updated 7:31 a.m. ET
Capital spending flat from a year earlier
Snap (SNAP) spent $26 million on capex in the third quarter of 2018, flat compared to the same period a year earlier and down $9.0 million from $35 million in the second quarter. 
Snap's capital spending totaled $36 million in the first quarter. Alphabet (GOOGL), Facebook (FB), and Twitter (TWTR) spent $5.3 billion, $3.3 billion, and $117 million, respectively, on capex in the third quarter.
Article continues below advertisement
Snap's spending on office facilities
Snap's capex is mainly associated with its investments in the buildout of office facilities. The company has been opening new office locations as it expands internationally. Twitter has also said that infrastructure investments drive its capital spending. Alphabet and Facebook have cited investments in data centers and office facilities as some of the drivers of their capital spending as well.
Why Facebook and Google are investing in data centers
Facebook operates several social networks that together host more than 6.0 billion users, many times larger than Snapchat's 186 million users at the end of the third quarter. To meet its growing storage and compute resource requirements, Facebook is developing its first Asian data center in Singapore at a cost of $1.0 billion. Facebook's Singapore data center facility will be powered by renewable solar energy, CNBC reported.
On its part, Alphabet's spending on data center constructions is linked to its Google unit, which is working to expand its cloud computing capacity as it steps up the competition with Amazon (AMZN) and Microsoft (MSFT) for cloud computing revenue. Google held 6.0% of the global cloud market in the third quarter of 2018 compared to 34% for Amazon and more than 14% for Microsoft, according to Synergy Research estimates. Snap runs some of its workloads on the Google cloud platform.