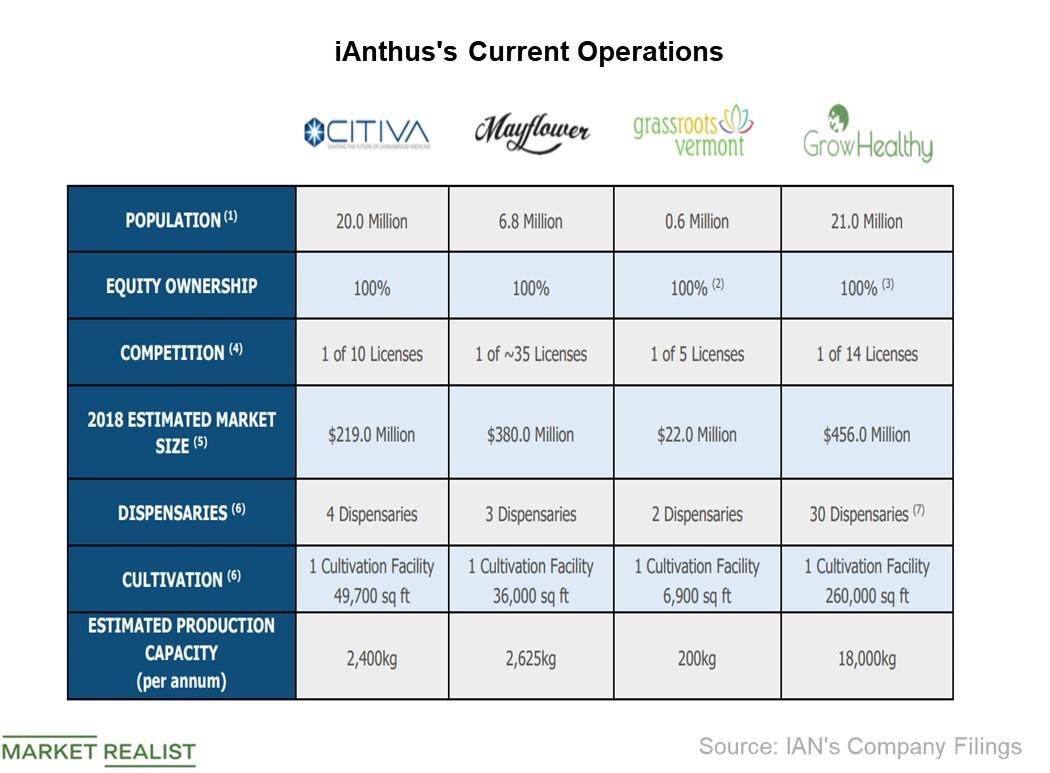 A Look at iAnthus Capital's Core Operations
By Rajiv Nanjapla

Jan. 24 2019, Updated 4:35 p.m. ET
Core operations
iAnthus Capital Holdings (IAN) (ITHUF) is a cannabis company that operates licensed cultivation, processing, and dispensary facilities across the US. Together with its portfolio of companies, iAnthus Capital has a license to operate eight cultivation/preprocessing facilities and 46 dispensaries spread across six states.
Mayflower, GrowHealthy, Citiva, and Grassroots Vermont are wholly owned subsidiaries of iAnthus Capital. Let's look at each of the companies in detail:
Article continues below advertisement
Mayflower Medicinals: As a provider of licensed medical cannabis in Massachusetts, Mayflower operates one 36,000 square-foot cultivation and production facility in Holliston and also operates a flagship dispensary in Boston. The dispensary offers a range of cannabis products, which includes flower, tinctures, concentrates, oils, vaporizers, and edibles. Mayflower has penned a host community agreement (or HCA) with Holliston for a cultivation and processing facility for adult-use products and is waiting for the licenses. The company has signed a lease for its second dispensary in Lowell and has been working on HCA for adult-use at the site. The company is waiting for the outcome of the selection process for its third dispensary at Worcester.
GrowHealthy: GrowHealthy owns licenses to operate 30 dispensaries and one cultivation facility in Florida. The company opened three dispensaries in December 2018 and plans to open 16 more dispensaries in 2019 and 11 in 2020 to reach 30 dispensaries. The company's cultivation facility had 2,600 plants consisting of 30 different strains by September 30, 2018, and the company is expanding its facility.
Citiva: The company has licenses to operate one cultivation facility and four dispensaries in New York. The company opened its flagship dispensary in Brooklyn on December 30, 2018. The phase one of its cultivation and processing facility at Warwick, which is 49,700 square feet, is expected to open in the first half of 2019.
Grassroots Vermont: The company has licenses to operate one cultivation facility and two dispensaries in Vermont. The company's cultivation and processing facility in Brandon was significantly upgraded to produce 200 kilograms of plant material annually. The company is expanding the facility to double its capacity.
The company operates one dispensary at Brandon and is waiting for state approval for its second dispensary in Williston, Vermont.
Next, we will look at iAnthus Capital's strategic partnerships and analysts' revenue estimates for 2019.