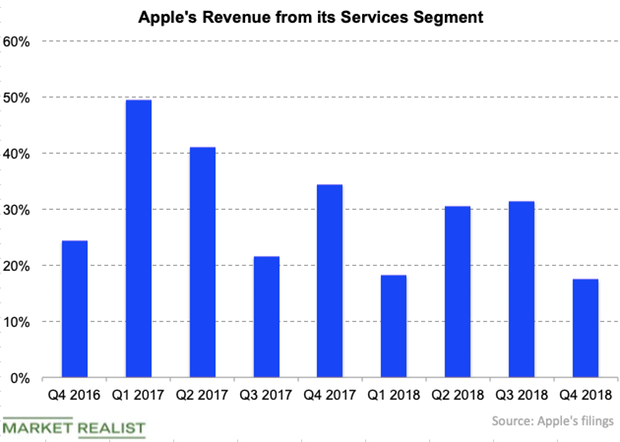 YouTube Tops the List of Most Downloaded iPhone Apps This Year
By Sanmit Amin

Dec. 14 2018, Updated 4:25 p.m. ET
Instagram and Snapchat continue to be popular
Apple (AAPL) has unveiled its list of the most downloaded non-game apps on iPhones this year. Alphabet's (GOOG) YouTube continues to see a lot of downloads despite already having over 1.5 billion monthly active users.
Apple said that YouTube was the most downloaded non-game app on its devices in 2018.
Facebook's (FB) Instagram and Snapchat (SNAP) stood in second and third places, respectively, showing that their popularity remains high. With that said, many of Snapchat's users deleted its app earlier this year after a controversial redesign.
These apps were followed by Messenger, Facebook, Snap's Bitmoji app, Netflix (NFLX), Google Maps, Gmail, and Spotify (SPOT). Users spent an aggregate of $86.6 million on Netflix's mobile app, with both Android and iOS use rising 76% YoY in November alone, according to Sensor Tower.
Article continues below advertisement
Apple's revenue from the App Store is lucrative
Among gaming apps, Fortnite, which became a sensation this year, was the most downloaded game in 2018, followed by Helix Jump, Rise Up, and PUBG.
Revenue from the App Store is a lucrative and fast-growing business for Apple. It's part of Apple's Services segment, which is touted as being the engine of the company's growth going forward. The company's Services segment reached nearly $10 billion in revenue during the September quarter.
Goldman Sachs analyst Rod Hall expects a surge in Apple's Services revenue mainly because he expects Google to pay Apple as much as $12 billion in 2019 to make Google Search the default search engine on iPhones.