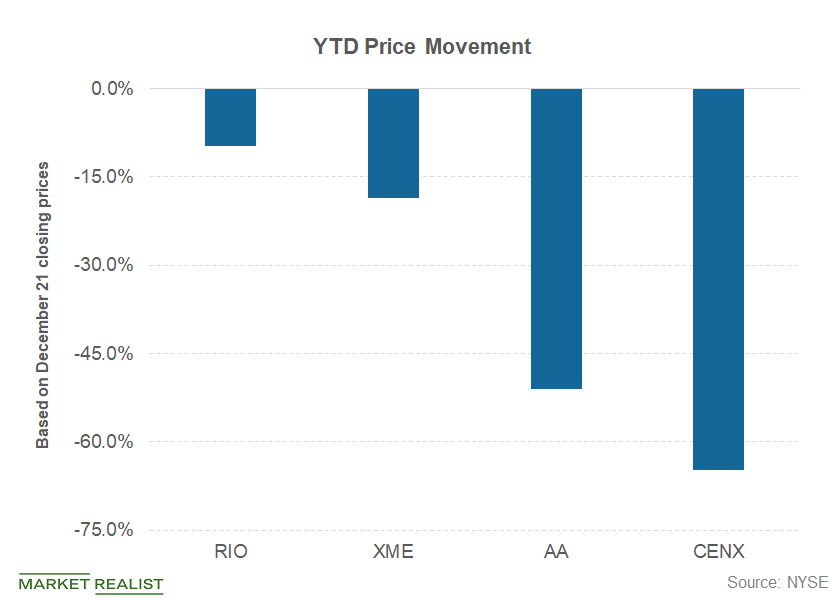 Would Alcoa Have Been Better Off without the Section 232 Tariffs?
By Mohit Oberoi, CFA

Dec. 27 2018, Updated 5:00 p.m. ET
Alcoa
In March, President Trump imposed a 10% tariff on aluminum imports. While Century Aluminum (CENX) responded positively to the move and announced a smelter restart a few days after the tariffs, Alcoa's (AA) response was measured from the very beginning. The company actually criticized the tariffs during the second-quarter earnings call but took a more reconciliatory tone on the third-quarter earnings call.
Article continues below advertisement
Impact
The tariffs have affected Alcoa in several ways. While US physical aluminum premiums surged following the tariffs, in Alcoa's case they were somewhat offset as the company also pays tariffs on the aluminum it ships from its Canadian smelters to the United States. However, based solely at premiums and the tariff Alcoa pays, the company has slightly benefited from the Section 232 tariffs.
Aluminum prices
Meanwhile, the bigger casualty has been aluminum prices. LME (London Metal Exchange) aluminum prices are testing $1,900 per metric ton. While a slew of factors can take the blame for falling aluminum prices (S32)(AWC), some blame might also fall on President Trump's trade war. While the Chinese economy was showing some signs of moderation, it has only been magnified by its trade spat with the United States.
While you can't predict with any certainty how aluminum might have played out with the Section 232 tariffs and the trade war, it wouldn't be an unfair assessment that aluminum prices might have been higher than what we're currently seeing. Plus, investors have, in general, not liked any sector whose fortunes are tied to the Chinese economy. As a result, we've seen valuation multiples plunge for metal and mining stocks (XME).
In the next part of this series, we'll look at Alcoa's outlook.