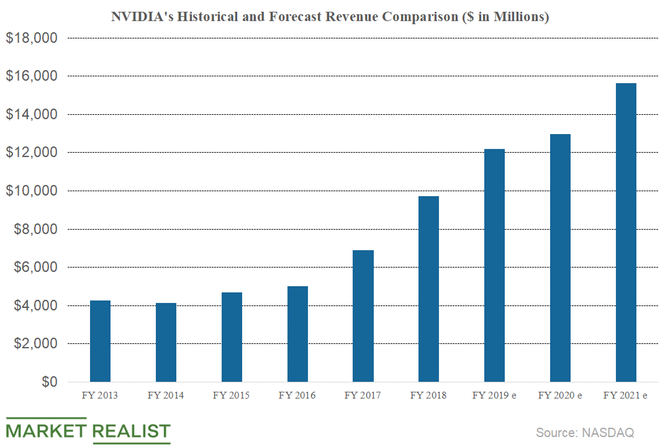 Will NVIDIA Continue to Struggle?
By Sanmit Amin

Dec. 13 2018, Updated 2:51 p.m. ET
NVDIA's valuation has been cut in half in two months
NVIDIA's (NVDA) stock has been in a free fall since October. The stock has plunged by nearly 50% in just over two months. Before that, the stock grew tenfold in less than two years. The NASDAQ Composite Index has declined by only 11.7% since the start of October.
Semiconductor stocks have been struggling this year. Chinese authorities have been encouraging local chip makers, as China wants to reduce its dependence on American chip companies. The semiconductor sector has been a drag on the composite index this year. However, NVIDIA's stock has tanked so much due to its idiosyncrasies. The chip maker is a leader in GPU (graphical processing units). Thus, the company suffered more than rival AMD (AMD) when the cryptocurrency madness cooled down this year.
Article continues below advertisement
NVIDIA could struggle in 2019 but could recover after that
The company expects to generate only $2.7 billion in the current quarter, while Wall Street was hoping for $3.4 billion. The "crypto hangover" has certainly cost NVIDIA this year.
The chip company will face more competition in the future, from new competitors and the big guns. While Apple (AAPL) has been designing its own chips for a while, Google (GOOG), Amazon (AMZN), and reportedly Facebook (FB) have thrown their hats in the ring.
While NVIDIA faces several headwinds in the short run, it has the potential to recover. The company's data center segment could drive growth, especially in the gaming sector. Additionally, the chip maker still has long-term growth opportunities in machine learning, professional visualization, and autonomous automotive.