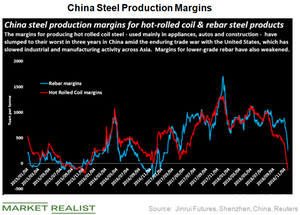 Will Chinese Steel Mills' Pains Intensify with the Trade War?
By Anuradha Garg

Dec. 13 2018, Updated 9:00 a.m. ET
Chinese steel mills under pressure
Chinese steel producers have finally come under pressure after reaping significant benefits over the last three years. In November, steel mills ran losses as steel prices entered into bear territory.
The current uptrend for steel mills started when Chinese authorities removed high polluting capacity starting in 2016. The move tightened the supply market while demand remained firm.
According to assessments, the margins for producers of hot rolled coil in China fell 71% to 211 Chinese yuan per ton compared to 2018's peak of 1,187 yuan per ton.
Article continues below advertisement
Steel margins contracting
According to the Commonwealth Bank's mining and energy commodities analyst, Vivek Dhar, "Chinese steel mill margins have dropped sharply in recent weeks, primarily driven by lower steel prices." He added, "[This is] in stark contrast to the profits the sector has enjoyed over the last 18 months."
Now, supply and demand have almost balanced each other out. In fact, due to increased profitability, current steel mills are running at high capacity utilization in contrast to weakening demand indicators. Analysts have therefore been expecting this slowdown for the mills for some time.
The premium for higher grades is waning
Earlier, steel mills switched to high-grade iron ore as margins remained high in a bid to contain pollution. Now, however, as margins have come under pressure, the premium for high-grade ore versus benchmark and low-grade ore has started narrowing. Mills have started preferring low-grade ore in a bid to rein in costs, as is evident in a higher fall in the price of ore with 62% content or more compared to lower-grade ore. If the pressure on margins remains, lower-grade iron ore producers could benefit compared to producers of higher-grade ore.
This switch is benefiting producers of lower-grade ore, such as Fortescue Metals Group (FSUGY). Major iron ore miners (XME) (COMT) BHP (BHP), Rio Tinto (RIO), and Vale (VALE), on the other hand, produce higher-grade material.