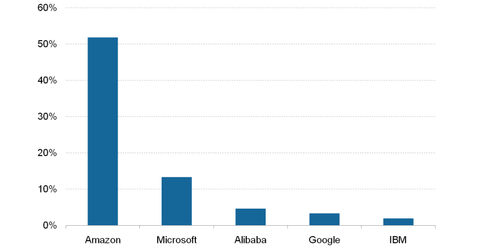 Why Oracle Has High Hopes for Its Autonomous Database
By Puneet Sikka

Updated
Oracle's Autonomous Database has a lot of advantages over traditional databases
Oracle's (ORCL) Autonomous Database is its cloud-based self-driving database, as the name suggests. It uses machine learning algorithms to automate the routine tasks related to the fine-tuning of database configurations, thereby resulting in a performance increase. The database also has the ability to automatically encrypt data to make it more secure and avoid data theft. It also applies software updates without any user intervention.
Article continues below advertisement
Another advantage Oracle claims Autonomous Database provides to companies is that it has very little downtime—basically a few minutes per month compared to about half an hour or more for other databases. Such limited downtime will be a boon to industries such as banking and airlines, which can't afford to have any downtime on their applications.
Amazon and Microsoft are far ahead of others in the IaaS market
Another trend that Oracle is seeing is that companies are bringing their existing on-premises databases to the Oracle cloud. Oracle calls this trend "bring-your-own-license." Oracle has mentioned that companies bring their own database licenses and integrate the real-time clustering and multitenancy features of its Autonomous Database.
Oracle believes the success of its Autonomous Database is important for it to penetrate the IaaS (infrastructure-as-a-service) market. Currently, Amazon (AMZN) dominates this market with a share of 52% as of 2017, according to a report from Gartner. Microsoft (MSFT) is a distant second with a share of 13%. 
As the chart above shows, Alibaba (BABA), Google (GOOG), and IBM (IBM) are other smaller players in this market with shares in the single digits. Clearly, Oracle has a minuscule share in this market, and it wants to change that with its Autonomous Database.