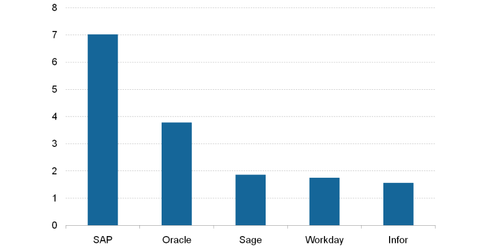 Why Oracle Believes It Is the Number One ERP Cloud Player
By Puneet Sikka

Updated
Oracle is behind SAP in the overall ERP market
In the previous article, we discussed how Oracle (ORCL) is looking to grow its presence in the SaaS (software-as-a-service) market. The real driver of growth for Oracle in the SaaS market is its growing presence in the ERP (Enterprise Resource Planning) space. ERP includes functions such as procurement, project management, financial management, and accounting. According to Gartner, ERP was a $31 billion market in 2017 and is poised to grow to $34 billion by the end of this year—decent growth despite worldwide economic concerns such as currency volatility, trade wars, and Brexit.
Article continues below advertisement
The report mentions that SAP (SAP) continues to be the largest player in the ERP market with revenue of over $7 billion in 2017. Oracle (with revenue of $3.78 billion), Sage (with revenue of $1.85 billion), Workday (WDAY) (with revenue of $1.75 billion), and Infor (with revenue of $1.56 billion) are the other top players in this market. Although SAP is the largest player in this market, its revenue showed growth of only 2% last year.
Oracle has managed to convert most of its customers to the cloud
According to Oracle, two-thirds of its application support revenue comes from the ERP and Human Capital Management applications. In the last 12 months, the company has earned revenue of $11 billion from software applications alone for a growth of 7%.
Although Oracle is far behind SAP in the overall ERP market, the company believes that it's the number one player in the ERP cloud market. Here, the focus is on the cloud, as the overall cloud market is growing at a much faster rate than the traditional on-premises market. According to Oracle, 91% of its yearly revenue is recurring in nature, which means it has managed to convert most of its on-premises customers to the cloud.