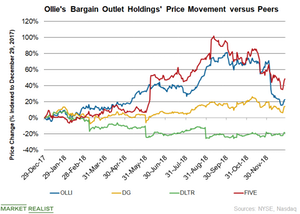 Why Ollie's Bargain Outlet Stock Is Up 22.7% in 2018
By Victoria Dean

Dec. 31 2018, Updated 2:50 p.m. ET
Stock northward bound
Ollie's Bargain Outlet Holdings (OLLI) stock has surged 22.7% to $65.32 as of December 27 on a year-to-date basis. The robust sales performance has been one of the primary growth drivers behind the stock price movement.
Ollie's beat analysts' projections for all three quarters of 2018. On a year-over-year basis, sales grew 21.2%, 13.1%, and 19.1%, respectively, in the first three quarters of 2018. Strong comps growth along with new store openings boosted sales numbers.
Comps for the three quarters were up 1.9%, 4.4%, and 4.6%, respectively. Over the trailing 11 quarters, Ollie's has beaten top-line estimates on all occasions while registering year-over-year growth on each quarter.
For the fourth quarter, analysts expect sales to increase 8.6% to $387.2 million. Management hasn't provided a sales outlook but expects comps growth to be at the high end of the guided range of 2%–3% for the fourth quarter.
Article continues below advertisement
What lies ahead?
Ollie's is expected to continue the good run in 2019 as well. It's a closeout merchandise retailer, and its low-value proposition is its biggest strength. It buys goods from manufacturers at low prices when retailers look to get rid of excess inventory. As a result, prices are substantially lower.
Ollie's considers the new store model to be favorable for top-line growth and higher cash flows. It usually prefers low-value second-generation real estate for store sites. The company recently spent $42 million to acquire 12 former Toys "R" Us locations. The company estimates a total of 37 new stores for fiscal 2018.
Ollie's is also building a new distribution center in Lancaster, to support the growing store base, which should be operational by 2020.
Ollie's Army is also supporting its top-line growth. The company had over 8.8 million loyal members at the end of the third quarter. Loyalty members comprise 70% of the total sales. It introduced the Ollie's Army mobile app earlier in the year.