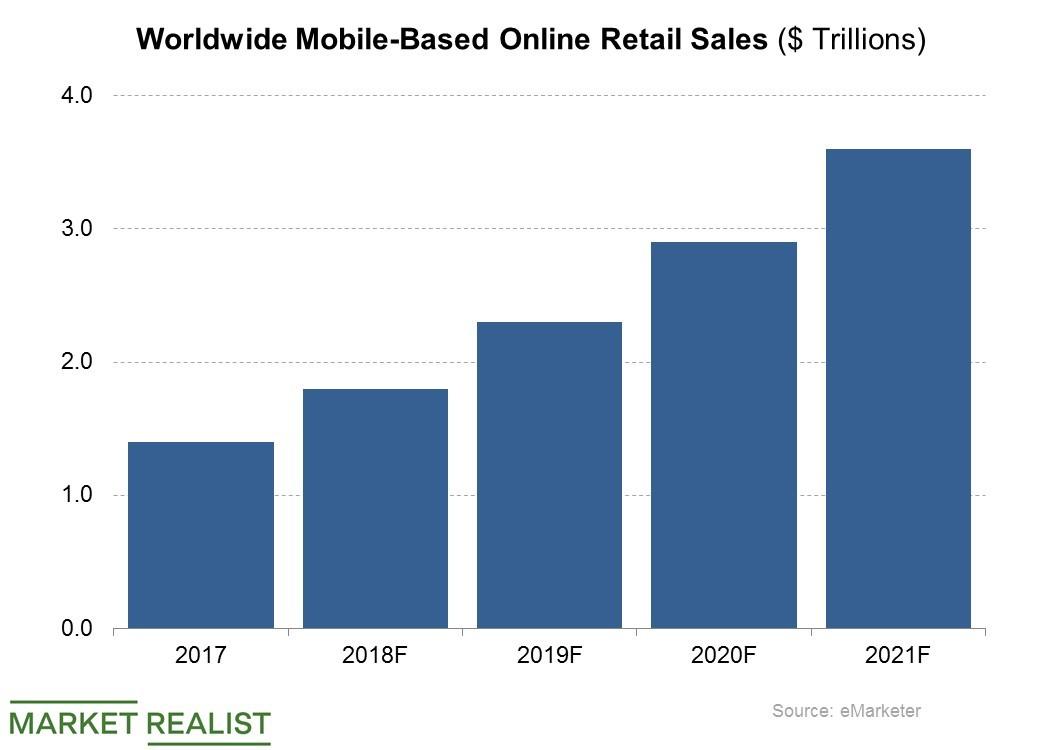 Why Mobile Is a Big Focus for PayPal
PayPal's mobile payment volumes rose 45%
At an investor conference hosted by Goldman Sachs earlier this month, PayPal (PYPL) CEO Dan Schulman said that the company's platform strategy wasn't just mobile-first but mobile-only. He went on to talk about PayPal's mobile milestones during the recent Black Friday and Cyber Monday shopping events.
In the third quarter, PayPal's mobile payment volumes jumped 45% year-over-year to $57 billion and accounted for 40% of the company's total payment volumes compared to 35% a year earlier.
Article continues below advertisement
Mobile-based e-commerce sales to hit $3.6 trillion by 2021
Mobile has become a big focus for PayPal because the company sees the rise of mobile commerce as a strong tailwind. According to eMarketer, purchases made on mobile devices accounted for 58.9% of all online retail sales worldwide in 2017, up from 40.2% in 2015. Worldwide mobile-based e-commerce sales are forecast to jump from $1.4 billion in 2017 to $3.6 trillion by 2021, at which time mobile is expected to account for 72.9% of all online retail sales.
PayPal serves more than 20 million merchants. These include big retailers such as Best Buy and Target.
PayPal posted $0.36 EPS in the latest quarter
PayPal generated revenue of $3.7 billion and made a profit of $436 million in the third quarter, translating to EPS of $0.36. Its mobile payment peers Yandex (YNDX), Amazon (AMZN), and Alphabet (GOOGL) posted EPS of $0.23, $5.75, and $13.06, respectively, in the quarter. Square (SQ) reported EPS of $0.04 in the third quarter.