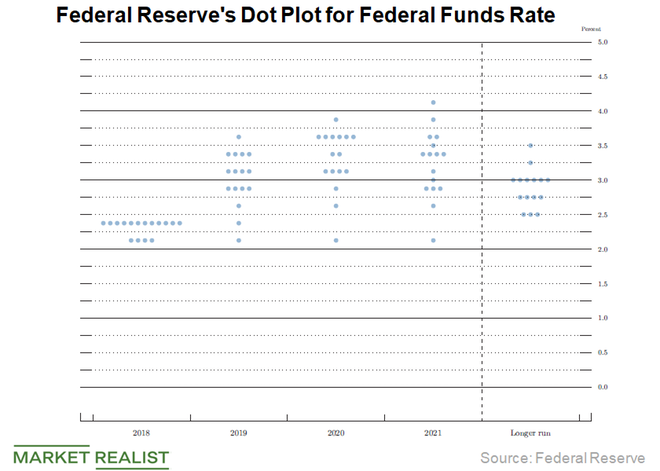 Why J.P. Morgan Is Bullish on Gold in the Second Half of 2019
By Anuradha Garg

Dec. 31 2018, Updated 10:31 a.m. ET
J.P. Morgan: Neutral on gold
In contrast to Bank of America Merrill Lynch's bullish view on gold (GLD) in 2019, JPMorgan Chase (JPM) expects gold (NUGT) and silver's (SLV) performance to remain to lukewarm—at least in the first half of 2019. Unlike BAML, JPM is neutral on gold and silver in the first half of 2019 and expects prices to hold between $1,200 and $1,250 per ounce. The bank, however, states that gold could finally make a push toward $1,400 per ounce in the final quarter of 2019.
Article continues below advertisement
Major drivers
One of the major drivers for JPM's neutral outlook for gold in the first half is its outlook on rate hikes (BND). It has the most hawkish rate hike expectations from the Fed in 2019. The bank expects four rate hikes in 2019, compared to the Fed's own projections of two more hikes at its December meeting. JPM believes that as interest rates continue to rise, driving the US dollar (USDU) higher too, holding gold could become costlier.
Moreover, JPM believes that as the Fed's policy gets aggressive putting the brakes on US (SPY)(VTI) economic expansion, things could get interesting for gold starting in Q3 2019. Then, it believes, gold's safe-haven appeal could come into play and push gold prices up.
JPM's hawkish rate hike stance and gold outlook
Investors should, however, note that JPM is on the extremely hawkish side as far as the rate hike outlook for 2019 is concerned. The market didn't even take kindly to the Fed's latest signal of two hikes in 2019, and it was expecting just one more hike. The Fed's members have also toned down their hawkishness since then and indicated that they could turn more accommodative. Under such circumstances, four rate hikes next year could be a bit much. Therefore, if we tone down the hikes, the scenario for gold could become a little more benevolent for gold than JPM expected—even for the first half of 2019.