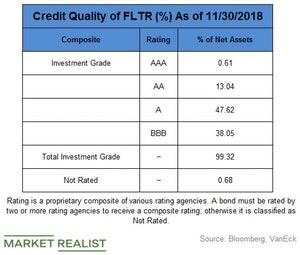 Why Investors May Want to Consider FLTR
By VanEck

Dec. 27 2018, Updated 9:00 a.m. ET
VanEck
SOKOL: Lastly, how can investors use FLTR in their portfolio?
RODILOSSO: Well, it is a way of reducing overall duration in your portfolio for sure. I would consider it not a clean substitute for cash, but a riskier alternative to cash that still is at the safer end of the corporate bonds universe. So, for investors who are thinking, "Okay, I still need some yield. I want to reduce duration," FLTR is a fairly good alternative. If they want to make some riskier bets on certain asset classes, emerging markets debt, for instance, even local currency, or they do like some parts of the high yield market but want to move down the risk curve in other parts – sort of the risk barbell approach – FLTR is to me a fairly good option.
SOKOL: Thanks, Fran, for sharing your perspective.
RODILOSSO: Thank you, Bill. Thanks again.
SOKOL: And if you'd like to learn more about FLTR or subscribe to receive additional insights from Fran and other VanEck thought leaders, please visit our website at www.vaneck.com.
Article continues below advertisement
Market Realist
How to include FLTR in your portfolio
As we discussed in this series, floating rate notes (or FRNs) act as cushions during periods of rising interest rates. With the rate hikes this year and expected hikes next year, investors should consider incorporating fixed-income ETFs, which can prove beneficial during rising rates.
Investors interested in improving their interest rate exposure can take a look at the VanEck Vectors Investment Grade Floating Rate ETF (FLTR), which tracks the MVIS US Investment Grade Floating Rate Index. The index consists of US-dollar-denominated floating rate investment-grade notes issued by corporate issuers that offer higher credit quality as shown in the chart below.
The underlying index of the FLTR ETF consists of bond issuers primarily in the financial sector, which is currently benefitting because of rising rates. The chart below shows the sector weights of the index.
According to a November 30, 2018, FactSet report, the financials sector (XLF) reported the second highest YoY earnings growth at 35.7% with the banking sector showing 22% growth for Q3 2018. A December 21, 2018, FactSet report stated that expectations are for the financial sector to show year-over-year earnings growth of 24.6%.
The index also comprises of FRNs from various other sectors like communication, consumer-cyclical and non-cyclical, and technology, providing diversification benefits. Nevertheless, it is advisable that investors thoroughly consider the risks each of the asset classes carry before making investment decisions.