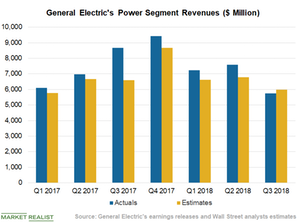 Why General Electric's Troubled Power Business Hurts Its Growth
By Anirudha Bhagat

Updated
What's troubling the power business?
Once General Electric's (GE) main growth engine, the Power segment is struggling to cope with changing industry dynamics. The business unit has been underperforming for the past several quarters. The growing demand for renewables and energy efficiency has eroded the demand for fossil fuel–based power plants. General Electric's Power division's performance depends on the gas and coal turbine market.
Article continues below advertisement
The $10.1 billion acquisition of Alstom added to General Electric's woes. At the time of the deal, General Electric justified the purchase by saying that the buyout would add steam power to its portfolio and expand its existing offerings in gas power and services. General Electric pointed to cross-selling and cost benefits.
In the last few years, some big natural gas–fired power plant builders including Vistra Energy (VST) and Dominion Energy (D) have lowered their dependence on fossil fuel–based power plants and moved to renewable sources.
One of the main reasons for General Electric's dismal top and bottom-line performances in the third quarter was the terrible performance in its Power segment. The segment generated revenues of $5.7 billion in the third quarter—down 33% from the third quarter of 2017 and a miss on analysts' projection of $6 billion. The segment reported an operating loss of $631 million—compared to its operating profit of $464 million in the third quarter of 2017.
Revamping initiatives
Larry Culp, General Electric's newly appointed CEO, announced a string of initiatives in the last two months in a move to revamp the company's struggling power business. In November, Culp started to split the segment into two different business units. One unit focuses on gas operations, while the other unit focuses on grid, steam, nuclear, and power conversion.
On November 19, Culp announced a leadership shuffle in General Electric's ailing power business. Management's shuffle included bringing back veteran General Electric executive John Rice from retirement. Rice will be the chair of the newly structured gas power business.
Culp made Scott Strazik the CEO of General Electric Gas Power. Strazik was an executive at GE Power. Russell Stokes, the CEO of the integrated General Electric Power division, became the CEO of the non-gas business.
In over two months as General Electric's chair and CEO, Culp has undertaken various initiatives to turn around the power business. However, the efforts are at a very nascent stage and will take a few quarters to be reflected in the company's financial results.
General Electric stock accounts for ~4.1% of the Industrial Select Sector SPDR ETF (XLI). XLI has invested 5.5% of its funds in 3M (MMM).